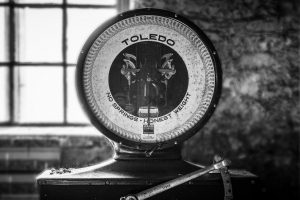 Have you ever shot a big buck and wondered how much it weighed?
We have all had the experience of either hearing or saying exaggerated claims of deer weight.
The only answer is a good game scale.
An exhaustive search of the market led us to the best scale for weighing your next deer.
Top Pick
From our research, we selected the Asani Game Scale as our top pick. This scale is perfect for weighing your next kill. It is accurate, gives consistent readings, and is priced well. This scale will give you weights you can trust.
The 5 Top-Rated Scales for Weighing Deer
Best Scale for Weighing Deer: Asani Game Scale
If you want to accurately know how much your next deer weights, you'll like the Asani Game Scale.
I think this is the best scale for weighing deer.
You can weigh game up to 660 lbs. so even the biggest deer won't be a problem.
This is a heavy duty, well made scale. It's housing is made from rugged plastic combined with stainless steel and aluminum. The lcd screen is waterproof so moisture will never be an issue either.
The Asani is quite accurate and can measure down to increments of 0.2 lbs. It comes with a hook and a U-bolt for easy mounting.
The LCD digital readout is easy to read even in low light situations.
This is a great choice for hunting, fishing, weighing hale bales, you name it.
Key Features:
Weight Limit: 660 lbs.
Digital Scale Readout
0.2 lb. Increments
Adjustable Zero
Runner Up: iDili Crane Scale
For hunters looking for an even heavier duty scale than the Asani, the iDili Crane Scale is a great choice.
This scale can measure up to a whopping 2000 lbs.
It has a nice, easy to read digital scale that measures down to increments of 2.2 lbs.
The U-bolt and hook are heavy duty so you will have no problems with them ever failing.
The housing is very rugged and made from solid aluminum. It uses AA batteries with a minimum life of 100 hours.
Key Features:
Weight Limit: 2000 lbs.
Digital Scale Readout
2.2 lb. Increments
Adjustable Zero
Runner Up: Modern Step Crane Scale
The Modern Step Crane Scale is another good option for a scale to weigh deer.
This is another well built design that is capable of weighing up to 660 lbs. in 0.2 lb. increments.
The case on this model is made from aluminum so it is probably a bit more durable than the Asani recommended above.
The LCD display is lit with LEDs so it is easy to read in low light situations.
The only reason we rated it lower than the Asani is because it costs a bit more but this scale would work perfect for weighing deer.
Key Features:
Weight Limit: 660 lbs.
Digital Scale Readout
0.2 lb. Increments
Adjustable Zero
Best Budget Deer Scale: Moultrie Game Scale
If you want a scale to weigh deer that won't break the bank, check out the Moultrie game scale. This is a nice little scale you can throw in your bag or truck so you can pull it out after your successful hunts.
This particular scale has an analog scale as opposed to the digital above. It is still easy to read in increments of 2 lbs.
And the scale is larger than it looks in the picture, the dial is 8″ in diameter. It comes with the S hooks shown which make it convenient to hang anywhere that will support the weight of your game.
The max load is 550 lbs. so it should work well for all but the largest of game.
At this price, we don't see how you can go wrong.
Key Features:
Weight Limit: 550 lbs.
Analog Scale Readout
2 lb. Increments
Adjustable Zero
Best Small Scale: Taylor Precision
For those of you who are looking for a smaller scale to weight cuts of meat, the Taylor Precision scale is great.
We find a scale like this to be super helpful when butchering our meat or measuring out portions when we are making sausage or salami.
It has an analog scale that read down to increments of 1 oz. The zero is resettable as well.
Taylor Precision made this scale out of stainless steel, making it easy to wipe clean after use.
Lastly, it comes with a 1 year warranty and the price is great.
Inexpensive, stainless, great for making sausage, salami etc. measuring portions
Key Features:
Weight Limit: 11lbs.
Analog Scale Readout
1 oz. Increments
Stainless Steel
Who Should Buy a Deer Scale
If you want to brag about how much your next deer weighs, and game scale and picture of some massive antlers are a fantastic way to do it. While it can be fun to speculate about how big your deer is, the only way to know for sure is to bust out a scale for weighing deer and weigh it.
A small scale can also be helpful when butchering your deer and dividing up your meat for packaging with your vacuum sealer.
A good scale can also have uses like weighing hay bales etc. We have even heard of hunters using scales like these to measure the draw weight of their bow.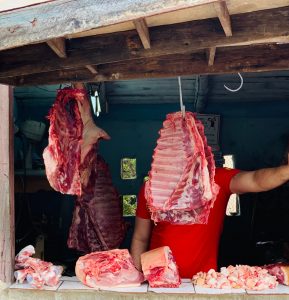 Important Features to Consider
Max Weight. The heaviest deer ever killed was about 430 lbs. so all the scale recommended above will be more than adequate for deer. If you plan to weigh larger game like elk, pick accordingly. The iDili should have no issues weighing any large game.
Analog or Digital. Scales come with either a digital or analog scale readout. This comes down to preference and to how much money you are willing to spend. Digital is easier to read small increments but either should work just fine.
Quality. Hunters can be rough on their gear. When selecting a scale, make sure you select one that is well made and that will stand up to some abuse. All the models recommended above are rugged and should hold up well.

FAQs
Are these deer scales waterproof?
As far as we can tell, none of the models are completely waterproof. The Asani has a waterproof lcd screen. They all have well made housings so a little moisture shouldn't hurt be we wouldn't recommend leaving them out in the rain.
How accurate at these scales?
All the scales we recommend above are accurate to within a few pounds, if not better.
What increments are the readings in?
The increments depend on the model. And the scales above range from increments of 1 oz. to 2.2 lbs. These should provide plenty of resolution for weighing game like deer.
Deer Scales to Avoid
This scale from LEM Products has a number of customers who report having issues.
And they report it being inaccurate and getting inconsistent readings.
The quality isn't great and we think the options above offer much more value.
Wrapping Up
This post is to help you find the best scale for weighing deer. You should now be able to confidently pick a good scale for weighing deer or for whatever else you might want to use it for.
Just make sure you pick a scale with a large enough weight limit. I am confident one of the options above will suit you well.