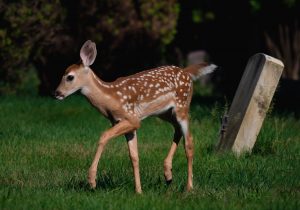 When do deer lose their spots?
And why?
Both are great questions.
The spots are the first thing anyone notices when they see a baby deer.
And, they are the easiest way to tell if a deer is a fawn.
But believe it or not, full grown deer can have spots too!
By the end of this post you will know everything you ever wanted to about deer spots.
When Do Deer Lose Their Spots?
Since the rut (when deer mate) occurs around October, baby deer are born in the spring.
From the moment they are born, fawns are covered with spots.
Why do baby deer have spots?
Mother nature and generations of adaptation have led to deer being born with spots for survival.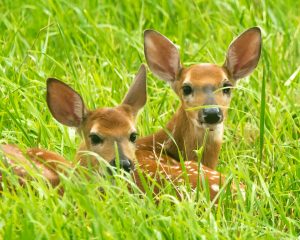 When a baby deer is born, it is not fully developed and can weigh as little as 6 lbs.
All of their senses (smell, sight, and hearing) don't work right away and they are not able to escape prey by fleeing.
So what do they do?
They lie hidden with the help of their spots!
The spots act as camoflauge to conceal them from would-be predators like coyotes.
While they lie hidden, their mother will go and gather food for the fawn.
Even once they are able to run, they will still keep their spots for some time.
So, when do they lose them?
Whitetailed, blacktailed, and mule deer are the most common deer species in North America.
They all typically lose their spots.
Most fawns lose their spots between 3-4 months of age and not long after start to mature to the point of growing antlers and being able to have offspring.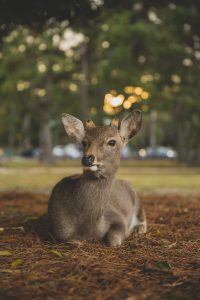 Male Fawns
Once male fawns approach 1 year old they will start to develop antlers for the first time.
The area on the head where they form first start with pedicles.
1 year old fawns are known as yearlings.
This is the first time a buck will grow antlers.
Their first set of antlers are only a single "spike" are are usually not legal to hunt.
Deer will shed their antlers every year and reach full maturity around 5 years old.
Female Fawns
Does (female deer) will stay with their mother for much longer than bucks, usually until they are between 3 to 4 years old.
But believe it or not, does can start giving birth to fawns as early as 1 year old.
So now that you know when deer lose their spots, you might be wondering…
Why Do Deer Lose Their Spots?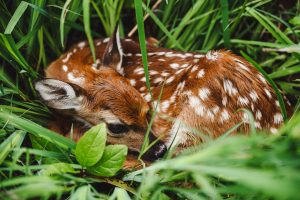 The real answer…
No one really knows why deer lose their spots.
Since spots help camoflauge deer, one would think that they would keep them.
And in fact, some species do…
Some Deer Never Lose Their Spots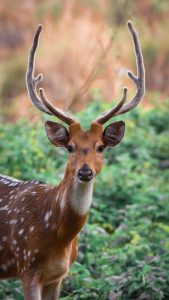 Fallow, Sika, Chital, will keep their spots their entire life.
Chital deer are even referred to as "spotted deer" and originate from near India.
For whatever reason, these species of deer have adapted to never lose their spots.
Why?
For the same reason fawns are born with spots in the first place…
Camoflauge!
Some scientists believe the reason these species don't lose their spots is because they rely more on concealment than fleeing for survival.
Frequently Asked Questions About Deer Spots
How Many Spots Do Baby Deer Have?
I am sure you have noticed…
Baby deer have a lot of spots!
In fact:
It is possible for a fawn to have as many as 300 spots!
When Do Deer Get Spots?
All deer are born with spots, regardless of species. From the moment they are born, fawns are always covered with spots!
Do Adult Deer Have Spots?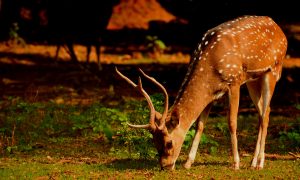 Yes, some adult deer have spots. It is rare for adult white-tailed, black-tailed, and mule deer to have spots though.
Fallow, Sika, and Chita deer can all have spots for their entire life.
How Long Do Fawns Stay with Their Mother?
As discussed above, males stay with their mother for about a year.
Female deer stay with their mother for much longer, usually about 3-4 years.
Conclusion
Hopefully this article has helped you learn a little more about why and when deer lose their spots.
If you are interested in learning more about deer, checkout one of the following articles: