Have you ever watched elk in the wild and wondered how far they walk in a day?
You're not alone. Many of us, whether we're hunters or just folks who love the outdoors, are curious about the daily lives of these big animals.
From where they find food in the morning to where they sleep at night, knowing about elk's habits helps us understand them better.
And for hunters, this info is super helpful. Elk meat is one of the most treasured game meats for a good reason.
So, let's learn more about elk and their daily adventures. Whether you're getting ready for hunting season or just interested, this will be fun. Let's go!
Factors Influencing Elk Movement
Feeding Patterns

Alright fellow elk hunters, let's chat about what drives our elk buddies to move around. First up, their feeding patterns.
Elk are creatures of habit. Every night, elk feed heavily on grasses in open areas on south facing slopes. But as the sun starts peeking, elk eat less and they head to more hidden spots.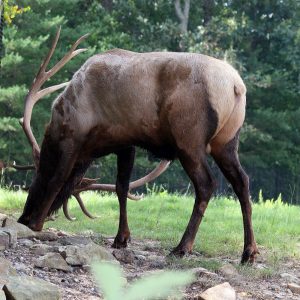 Why? Well, they're smart. They know it's safer to eat in the secure cover during the day.
Bedding Habits
Now, where do elk like to take their afternoon naps?
They love thick woods, especially if there's water nearby. Imagine cozy, shaded spots on north facing slopes. Perfect, right?
That's what elk think too. It's not just about comfort; it's about staying safe from predators and getting a drink when they're thirsty.
External Factors
Alright, let's not forget the other things that make elk move. Like us hunters, other wild animals, or even the weather.
If it's super hot or windy, elk might change their plans. And if they sense danger, like from a bear or a bunch of noisy humans, they'll high-tail it out of there. Plus, if they hear another herd or a rival bull, they might move to avoid a fight or join the group.
In the wild, it's all about adapting. And trust me, elk are experts at that. Whether it's finding food, a safe spot to rest, or avoiding danger, they've got it down.
Distance Covered in a Day
So just how much ground do elk cover in a day? Well, strap on your hiking boots, 'cause we're about to find out.
From my time out in the wild, I've seen elk move both short and long distances. Sometimes, they might just roam around a favorite feeding area.
Other times? They could trek several miles, especially if they're in search of better food or a mate.
These distances can be as small as 100 yards up to a few miles per day. Elk traveling a few miles is quite normal.
This is why having a good game cart can be so helpful.
Variability in Distance
Now, not every day is a marathon for our elk friends. The distance they travel can change based on a few things. Location is a big one.
In open forest, they might cover more ground than in dense woods.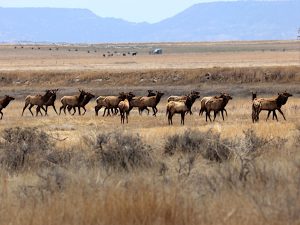 Then there's pressure. If they feel other hunters or predators are close, they'll move faster and farther.
And don't forget about resources. If there's plenty of food and water nearby, why travel far?
But here's a fun fact: during the hunting season or when other young bulls are around, these creatures can really pick up the pace. They're not just wandering aimlessly; they're making strategic moves.
Elk have their reasons for every step they take. Whether it's a short stroll or a day-long journey, it's all part of their wild, wonderful life.
Studying Elk Travel
Let's take a look at what the research says. Over the years, researchers have employed various methods to study these aspects, and with the advent of technology, these methods have become more sophisticated and accurate.
Tracking Devices
One of the most common tools used in studying elk movement is the tracking collar.
These collars, fitted around the elk's neck, come equipped with GPS technology.
They record the elk's location at regular intervals, providing researchers with a detailed map of their travel routes.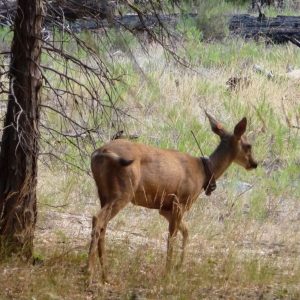 This data helps in understanding their migration patterns, daily travel distances, and preferred elk habitat.
Before the widespread use of GPS, radio telemetry was the go-to method to study the behavior of a wild animal. Researchers would fit elk with radio collars and then use antennas to pick up signals from these collars.
By triangulating the signals from different locations, they could determine the elk's position.
Though not as precise as GPS, radio telemetry provided valuable insights into elk behavior for many years.
Insights from Tracking
By using these tracking devices, researchers have been able to uncover some fascinating facts about elk habitat.
For instance, they've learned that elk can travel long distances in search of food, especially in winter months.
They've also discovered that elk often return to the same bedding areas, indicating a strong sense of territory and preference.
Understanding Elk Travel Routes
If you've ever spent time tracking elk, you know it's not just about spotting them. It's about predicting where they'll be next.
That's where understanding their travel routes comes in. Elk, like us, have favorite paths they like to take.
Maybe it's a trail that leads to feeding areas or a shortcut to a hidden water source. By recognizing these paths, we can anticipate their next move.
Strategies for Elk Hunters

Now, for those of us with a bow or rifle in hand, this knowledge is pure gold. Setting up camp near these routes can up our chances of a successful hunt.
Hearing an elk call in the early morning or spotting a herd in the distance is what it's all about. And when we understand their routes, we're not just following them; we're joining their dance in the wild.
Learn their paths, respect their journey, and you'll be rewarded with unforgettable moments in the great outdoors.
Risks of Approaching Bedding Areas
We all know the thrill of tracking elk, but there's one spot we ought to tread lightly: their bedding areas. These are the places elk choose to rest and recharge.
But here's the thing, if we get too close, we might spook them. And a startled elk can bolt, leaving behind their safe haven.
This not only disrupts their rest but can also make them more cautious and harder to spot in the future.
Tips for Successful Elk Hunting
For us hunters, understanding this is key. If we respect their space, especially around bedding areas, our chances of a good hunt go up. It's all about patience and strategy.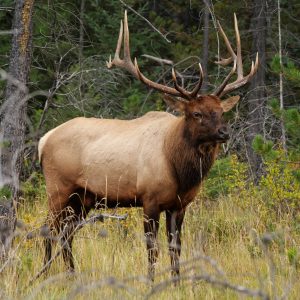 Instead of getting too close, try using a cow call from a distance. Listen for their responses. And always keep an eye on the wind; you don't want your scent blowing their way.
Remember, hunting isn't just about the chase. By being mindful of their bedding areas, we ensure that the elk continue to thrive, and our hunting adventures remain fruitful and memorable.
So, next time you're out in the wild, tread carefully and hunt wisely.
Final Thoughts
Alright, fellow hunters and outdoor enthusiasts! We've journeyed through the world of elk, from understanding their daily travels to the ins and outs of their habits.
It's clear that these tasty elk have movement patterns and reasons for every move they make.
Whether it's searching for food, finding a safe spot to rest, or avoiding dangers, elk are truly masters of their domain.
For us, whether we're tracking them for the thrill of the hunt or simply admiring from a distance, there's so much to learn and appreciate.
By diving deep into their behaviors and respecting their space, we not only enhance our outdoor experiences but also ensure these incredible animals continue to roam freely.
FAQs
How Do Elk Choose Their Bedding Areas?
Elk sure are picky when it comes to picking a bedding area. They look for places that offer both comfort and safety.
Thick woods are a top choice because they provide security cover. Being near water is a bonus, as it gives them a quick drink option. Plus, they prefer spots that are away from common paths to stay hidden from predators and, well, folks like us.
What Times of Day Are Elk Most Active?
Elk are creatures of habit. Dawn and dusk are their prime times.
Why? The cooler temperatures make it comfy for them to move around and find food. Plus, the dim light helps them stay a bit more hidden from any prying eyes.
How Do Environmental Factors Like Wind and Temperature Affect Elk Movement?

Wind and temperature play a big role in how elk move. On windy days, elk might stay in heavier cover to avoid the gusts.
Wind direction matters too, as they use it to catch scents of danger.
And temperature? in warm weather, they'll likely stick to shaded areas or be near water to stay cool. Cold days during early fall might see them moving more, trying to warm up and find food.
So, when you're out tracking, always keep an eye on the sky and feel the breeze.