This is the definitive guide to the best tick repellent for hunters.
Ticks are nasty little bugs but as hunters we don't have much choice, they are a part of hunting.
Deer are reproductive hosts for ticks.
This means deer can serve as both a feeding source as well as a breeding ground for ticks.
Since there is no tick repellent that is 100% effective, we need to take a multipronged approach.
We need to use the right repellents combined with the right clothing and if we choose well, tick problems will be a thing of the past.
The convention approach involves using sprays, but we think you can do lower your chances significantly by combining multiple prevention techniques.
If you are in a hurry, our top choices are below but we recommend coming back to the article when you have more time to make sure you are doing everything you can to prevent ticks.
Best Tick Repellents for Hunters
Research has found that only around 3% of all tick bites are estimated to occur while hunting. But hunters are a small percentage of the total population so the chances are actually much higher than they might seem.
We are going to break down tick protection into 3 categories:
Commercial Tick Repellents
Best Tick Repellent Clothing
General Tick Prevention Tips
Best Picaridin Tick Repellent for Hunters: Sawyer 20% Spray
Sawyer 20% spray is our favorite choice for Picaridin tick repellent.
If you are going to use only one repellent, we think this is what you should pick.
Picaridin also works against other insects like flies, mosquitos, chiggers, and gnats.
This spray is really nice to use as it doesn't leave you feeling all greasy, and you don't need to rub it in like the lotion version.
Plus, we have found it to be scent free, especially when comparing it to a DEET repellent.
It is effective for up to 8 hours so you typically only need to use it before you head out for your hunt.
Best DEET Tick Repellent for Hunters: OFF! Deep Woods
Chances are, you have heard of and probably used OFF!
This Deep Woods version is our favorite DEET spray.
The formula contains 25% DEET which we think is a nice sweet spot.
While there are sprays with higher concentrations, this can increase your chances of experiencing adverse side effects.
A better approach is to use this 25% spray and make sure to reapply every 6 hours or so.
If you are looking for a budget repellent, this is our top pick for keeping ticks away.
Best Permethrin Tick Repellent for Hunters: Sawyer Spray
Permethrin is a great way to add another layer of protection against ticks.
Sawyer is our favorite brand.
This version comes as a spray that you apply to your clothing prior to heading on your hunting trip.
You want to make sure to spray it on at least the night before so it has time to dry.
What's great about this stuff is that it last for up to 6 weeks or 6 washings.
In addition to ticks, it is effective against mosquitos, chiggers, and spiders.
We recommend you use this in combination with one of the sprays above for maximum effectiveness.
If you do so and follow the tips below, it will greatly reduce your chances of picking up a tick.
Best Tick Repellent Clothing for Hunters
SITKA Equinox Guard
SITKA has a full line of clothing designed specifically to prevent insect bites.
The SITKA Equinox Guard line features a scent free Insect Shield which is basically built in Permethrin.
Unfortunately it doesn't last forever. You will need to reapply with Permethrin after a few months of use.
Gaiters
Another great way to reduce your chances of picking up a tick is to wear gaiters over your hunting boots.
The gaiters provide an extra protective barrier between your skin and ticks.
We have a full article covering what we think are the best gaiters for hunters.
If you are looking for a good choice, you can't go wrong with a pair of Kenetrek gaiters.
Long Socks
While it may seem obvious, making sure you wear a good pair of hunting socks can do a lot to repel ticks.
They are yet another layer to help keep ticks out.
Our go to hunting socks are always DarnTough.
They are extremely well made and come with a no questions asked lifetime guarantee.
General Tick Prevention Tips
Cover Exposed Skin
Since ticks mostly live in tall grass and weeds, your legs are by far the most at risk area of the body for picking up a tick.
You want to minimize the amount of exposed bare skin which can be done by wearing boots, long socks, and gaiters like the ones we recommended above.
Legs are by far most at risk area of the body as most ticks live grass weeds etc
Most Common Types of Tick Repellent
Tick repellents can be broken down into 3 categories based on the chemical they use to keep ticks away.
DEET
Historically DEET has been the most common and popular insect repellent. It is used for ticks, mosquitos, and many other bugs.
DEET was originally developed by the U.S. Army to prevent mosquito transmitted diseases for our troops.
It is a synthetic compound that is typically applied via a spray.
DEET has been studied extensively and found be be very effective over short periods of time (2-6 hours).
Adverse effects are possible, with the main one being skin irritation or rash. This typically happens when heavy amounts and concentrations are used.
We can greatly minimize these risks by applying more moderate amounts and reapplying more frequently.
Picaridin
Picaridin is a synthetic compound made to repel ticks, chiggers, and other bugs.
It is a based on the chemical structure of piperine, a natural compound found in peppers.
Picaridin only repels insects, it does not kill them.
It is meant to be applied directly to the skin but must be done with care so it is not ingested.
Most manufacturers claim picaradin spray is effective for around 8-12 hours.
Picaridin has become the number one selling mosquito repellent in Europe and Australia.
From the research we have looked at, Picaridin has been deemed fairly safe with no major side effects other than possible skin irritation.
You can read the EPA assessment of Picaridin to find more detailed information.
Permethrin
Permethrin is considered an insecticide and is normally applied to clothing when used as a tick repellent.
Unlike the repellents above, Permethrin is long lasting.
It is normally applied to clothing and can last up to 6 weeks or 6 washings according to Sawyer.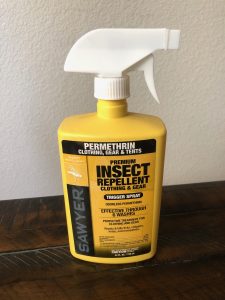 Another great benefit is that it kills ticks as opposed to just repelling them.
A study has shown it can reduce number of tick bites by 80+%.
It is also very effective at repelling mosquitos.
Permethrin has minimal side effects, with skin irritation being the main one. Skin irritation is uncommon.
It should not be ingested, as the EPA has deemed it as a likely carcinogen when ingested.
What are some good natural tick repellents for hunters?
While there are some natural compounds that will dissuade ticks, keep in mind that none of them are nearly as effective as the 3 above.
Eucalyptus Oil
Eucalyptus oil has been found to be effective at repelling (and killing) ticks.
It is really simple to mix up your own spray.
Just mix 5 drops of oil for every ounce of water.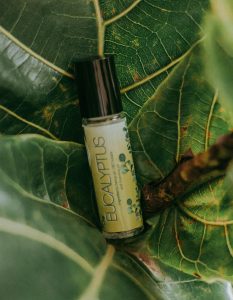 Spray this on your boots, pants, and other clothing before you head out to hunt.
This mixture is safe to use on dogs as well.
Most Common Types of Ticks a Hunter Will Encounter
Deer Ticks
The deer tick is a species of tick that resides on the western portion of North America.
It is it the number one cause of the spread of Lyme disease in that area.
They are typically found in grass, brush, and of course on deer.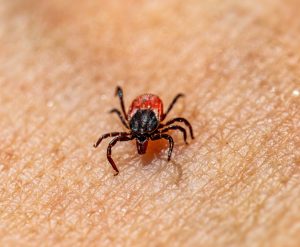 Dog Ticks/Wood Ticks
Dog ticks or wood ticks as they are also known are another common tick species a hunter may encounter.
Wood/dog ticks are a type of hard ticks, which means they have a hard shell around them.
Unlike deer ticks, these ticks do not transmit Lyme. However, they are responsible for spreading Rocky Mountain spotted fever (RMSF).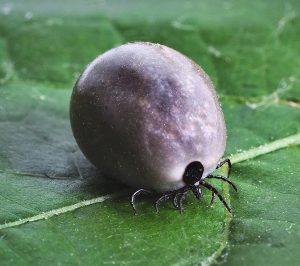 They are most commonly found in the eastern part of the U.S. but they have been found as far west as California.
Lone Star Tick
The lone star tick is named for the white spot on its back.
They can be found all over the U.S., from the Midwest to all the way down the Eastern regions.
Fortunately it is not known to spread Lyme.
The lone star tick can be a vector for other diseases such as Ehrilichiosis.
What Tick Diseases Should a Hunter be Concerned About?
It is estimated that over half a million people contract a tick borne illness each year.
Here are some of the most common diseases a hunter should be aware of.
Lyme Disease
Lyme is the most common disease spread by ticks in North America.
It has been estimated to account for around 80% of all tick-borne illness cases.
Lyme is caused by the Borrelia bacteria and is spread through the site of the bite typically when the tick has been attached for over 36 hours.
Most common in spring and early summer, lucky for hunters.
The most common sign of infection is a red rash that spreads from the site of the tick bite. The other symptoms many experience are headachs, fever, and lack of energy.
Long term, the disease can cause arthritis like symptoms which typically occur in one of the large joints in the body like the hip or knee.
Rocky Mountain Spotted Fever
Rocky Mountain Spotted Fever (RMSF) is another bacterial disease transmitted by ticks.
It is caused by the Rickettsia bacteria.
And the complications can be quite serious if not treated. 0.5% of people infected die as a result of the disease.
Less severe effects are rash, fever, headache. In rare cases, it can also result in amputation and hearing loss.
Treatment is straightforward as long as it is caught early. A round of antibiotics is the standard treatment.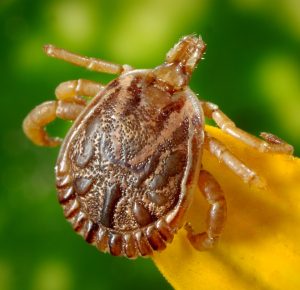 Anaplasmosis
Anaplasmosis is yet another tick-borne illness caused by bacteria, in this case Anaplasma phagocytophilum.
Symptoms will usually not start to show up until a few weeks after being bit.
Early signs will include fever, headache, nausea, vomiting and diarrhea.
Treatment consists of antibiotics.
Once again, if you start to become ill after being bit by a tick it is critical you see a doctor as forgoing treatment can result in serious complications later.
Ehrlichiosis
Ehrlichiosis is a bacteria disease transmitted by ticks.
The symptoms are very similar to the diseases we have already covered.
They include fever, headache, muscle aches, and digestive problems.
The standard treatment is a course of antibiotics.
As is the case with all of the diseases we have discussed, early treatment is very important as delayed treatment can result in very severe risks.
How to Remove a Tick While Hunting
Ticks that have attached should be removed as soon as possible. The less time a tick is attached, the lower the likelihood of it spreading a disease into your body.
The most commonly recommended method for removing a tick is to use a pair of tweezers. When removing, pull the tick straight out without twisting. You want to make sure to avoid crushing or breaking the tick with the tweezers.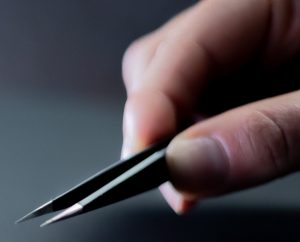 Always clean the site of the bite with alcohol, soap, and water. If you develop any sort of symptoms like a rash, contact a doctor as soon as possible.
Most cases of tick-borne illnesses can be treated if they are caught early so don't put it off.
FAQs
Do natural tick repellents work?
Natural tick repellents like the various essential oils discussed above can help reduce your chances of picking up a tick but they are not as effective as DEET, Picaridin, and Permethrin.
Where do ticks hide?
Ticks are most commonly found in brush, tall grass, and wooded areas.
What are the most dangerous diseases carried by ticks?
The most dangerous diseases carried by ticks are Lyme disease, Rocky Mountain Spotted Fever, Ehrilichiosis, Anaplasmosis, and Babesiosis. Each of these is discussed in more detail above.
What are the chances of getting Lyme disease from a tick bite?
Fortunately, the chances of contracting Lyme from a tick bite are low, especially if the tick is attached for less than 36 hours. It is estimated that ~1% of black leg ticks are infected with the Borrelia bacteria.
What is Lyme disease?
Lyme is a tick-borne disease caused by the Borrelia bacteria. If left untreated, symptoms can become serious.
Read the section earlier in the article to find out more.
What is Rocky Mountain spotted fever?
RMSF is another tick-borne illness caused by bacteria. It also has very serious symptoms including death in not treated.
Read the section earlier in the article to find out more.
Can Permethrin be applied to my hunting dog?
According to Sawyer, Permethrin can be applied to dogs and will help control ticks for up to 6 weeks. Be sure to review their instructions for dogs before attempting.
Another great option for dogs is to use a Seresto tick collar.
Combining these two will do a lot to keep your dog tick free.