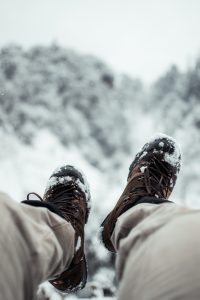 If you are looking to add extra protection to your lower leg,
to keep dirt, rocks, and snow out of your boots…
You should consider getting your self a good pair of hunting gaiters.
After wearing high quality gaiters, we rarely leave for a hunt without them.
This article highlights the gaiters we like the best and what makes them better than the rest.
Top Pick
After trying and reviewing all the top hunting gaiters on the market, the Kenetrek gaiters are our favorite. These gaiters fit great, provide excellent protection, and stay put once you have them on.
If you landed on this page looking for a neck gaiter, checkout our page on the best neck gaiters for hunting.
The 5 Top-Rated Hunting Gaiters
Best Hunting Gaiters: Kenetrek
When it comes to high quality hunting gaiters, the Kenetrek gaiters are our top pick.
You might be familiar with Kenetrek for their high quality hunting boots. These gaiters live up to the companies reputation for making high end hunting gear.
These are fitted gaiters that cover the entire calf. They are meant to go over full-size mountain hunting boots.
Kenetrek makes them from rugged polyester and includes a waterproof membrane to keep you dry.
One of our favorite things about these gaiters is that they are easy to put on and they stay in place throughout the hunt. We never find ourselves having to adjust them during the day.
If you are tired of wet boots and legs and picking thorns out of your pants, give these gaiters a try.
Key Features:
Calf Height
Lace Hook
Waterproof
Breathable
Quiet
Runner Up: SITKA Stormfront
SITKA makes top-notch hunting gear and these Stormfront gaiters are no exception. That is why we selected them as our first runner up.
One of the features we like the best is that the lower portion of the gaiter is made from a separate, abrasion-resistant layer to make them extra rugged vs. rocks and sharp sticks.
SITKA makes these gaiters from a mixture of polyester and a 3-layer waterproof GORE-TEX to keep your legs and feet dry.
There are full height gaiters that cover your entire calf.
This gaiter uses a hook and loop closure strap at the top so you can sinch them tight and keep debris out.
The only reason we ranked them slightly behind that Kenetrek gaiters is the higher price.
Key Features:
Calf Height
Lace Hook
Waterproof GORE-TEX
Abrasion Resistant Lower
Runner Up: First Lite Brambler
Our next runner up is the First Lite Brambler. These have a lot in common with the models above but there are a few important differences.
The first difference is that these are made from a 3.5 layer panel using Cocona 37.5 active particle technology. The shell is pretty hard and durable as a result.
These gaiters also use the strap loop closure design on the upper. I believe this is a better and more durable design than some of the other gaiters on the market using and elastic draw string.
Overall, we still really like these gaiters but slightly prefer the Kennetrek and Sitka.
Key Features:
Calf Height
Lace Hook
Waterproof
Strap with Latch Upper
Best Snake Gaiters: Crackshot
If you are looking for gaiters specifically to protect against potential snake bites, we recommend the Crackshot gaiters.
As you can tell from the picture, these provide some serious protection.
These gaiters cover your entire calf and are held in place by 2 adjustable buckles.
If you are looking for a pair that will keep you dry these might not be the best choice, but for snakes they are impossible to beat.
Checkout the video below to see how much these guys believe in their gaiters ability to protect vs. snake bites!
Key Features:
Calf Height
Best Snake Protection
Adjustable Buckles
Best Budget Gaiters: Outdoor Research
If you are on a tight budget and can't afford any of the recommendations above, the Outdoor Research gaiters are a good choice.
While not of the same caliber as our top few picks, these are still good quality gaiters.
Outdoor Research makes these gaiters from nylon.
They cover your full calf and are water resistant.
The top tightens with a strap with loop and closure.
Many owners report using them in snow without any issues.
Key Features:
Calf Height
Lace Hook
Water-Resistant
Abrasion Resistant Lower
Who Should Buy Hunting Gaiters
Gaiters can provide a lot of benefits to hunters in certain situations.
If you are someone that hikes a lot of rugged terrain, gaiters provide protection to pants and boots from sharp rocks and sticks that may otherwise tear or damage your gear. Stickers that would get stuck to your pants get knocked away or stuck to your gaiters instead.
They also provide an extra layer of insulation on your lower leg when it is cold out.
When walking through wet grass and snow, they help keep your legs and feet dry. Dirt, rocks, and snow are kept our of your boots.
Gaiters are also a fantastic way to protect yourself from a deadly snake bite if you accidentally near a snake that you didn't know was there.
They are also another provide another layer of protection from ticks.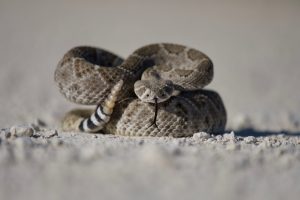 Important Features to Consider
Height. We recommend you purchase gaiters that go above the opening of your boots/shoes. One of the benefits of gaiters is that they keep dirt, rocks, and moisture from getting into your boot opening. Since we typically wear mountain hunting boots, we prefer gaiters that cover our entire calf.
Water Protection. Gaiters can provide extra insulation from water and moisture. If you are walking through wet grass or snow, they help a ton with keeping your boots, lower legs, and feet dry.
Thickness. Gaiters are great for protecting your pants, boots, and legs. If you hunt in an area with a lot of snakes, they also provide good protection against snake bites. Give some thought to the environment you hunt and what you are hoping to get out of wearing gaiters.
Comfort. If you have ever worn cheap gaiters, you may have had the experience of wearing gaiters that won't stay put. We have worn pairs that spin or slide around our leg and it is annoying to say the least. You end up spending tons of time re-adjusting the position only to have them slide around again.