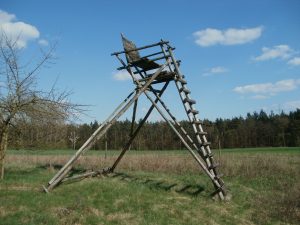 This is our review of the best tripod deer stands currently on the market.
You are probably well aware, deer are not going to approach if they can see you.
If you are looking for the best way to stay out of their view in open land, a tripod stand might be just what you need.
This review of tripod deer stands will help to bring more comfort and success to your hunts.
We reviewed every tripod deer stand we could find and think we were able to pick out the best from the rest.
The stand features vary quite a bit and the stand for you might be different than what someone else needs so be sure to read the details below.
Top Pick
After a lot of research, we selected the Millennium T-100 10′ Tripod Stand as our top pick. The lightweight, sturdy design makes it a great choice for all hunters, especially those who might need to setup and tear down often.
6 Top-Rated Tripod Deer Stands
Best Tripod Deer Stand: Millennium T-100 10 ft Tripod
If you are looking for the most well rounded, high quality tripod stand look no further than the Millennium T-100. This model will cost a little more money but the construction does stand out above other models.
One of our favorite things about this stand is how lightweight it is compared to virtually everything else on the market. It only weights 36 lb. making it manageable for one person to move around and setup. If you are looking for something to pack in and out, for example to hunt public land, this is an excellent choice.
The seat is nice and comfortable, and the 360 degree swiveling seat makes it easy to reposition yourself without making much noise. You can easily shoot a bow from this stand while seated. Overall we highly recommend this model.
Key Features:
Height: 10′
Weight: 36 lb.
Weight Capacity: 300 lb.
360 degree Swiveling Seat
Best Budget Tripod Deer Stand: Guide Gear 12′ Tripod Stand
Finding a well made tripod stand on a budget can be tough but the 12′ Gear Guide Stand is the clear choice. For the price you get a pretty well made stand that should get the job done under most conditions as long as you keep a few things in mind.
First, the steps are a little on the small side so you will need to be careful getting in and out of this stand. Also, it is a little heavy so if you plan on packing the stand on foot plan to struggle a bit. At 60 lb. it is possible though.
With that said, once you do get it where you want, the stand is pretty easy to setup. The seat is also comfortable and it has a nice shooting rail to keep you in your seat and help steady your aim. Overall for the price it is hard to beat.
Key Features:
Height: 12′
Weight: 60 lb.
Weight Capacity: 300 lb.
Swiveling Seat
Tallest Tripod Deer Stand: Gear Guide 20′ Tripod Stand
If you are looking for the tallest possible tripod stand, the Gear Guide 20′ Stand is a great choice.
This tall stand combines great features, including a substantial weight limit, swiveling seat, shooting rail, and a spacious platform.
The standout feature of this stand is the impressive 20′ height, far more than any other stand we reviewed.
It has a robust capacity of 300 lbs, ensuring that hunters of various sizes can comfortably use it without any compromise on safety or stability.
The swiveling seat of this tripod deer stand takes your comfort to the next level. Designed to rotate a full 360 degrees, the seat provides an unrestricted view of your surroundings.
This seat allows you to effortlessly pivot in any direction, ensuring you never miss a moment.
For those precision shots and added safety, the shooting rail on this tripod stand is a game-changer. The sturdy rail provides a stable support for your firearm, allowing you to steady your aim and take that perfect shot when the opportunity arises.
In addition to its impressive functionality, this tripod deer stand offers a spacious platform that provides ample room to move around.
You'll appreciate the generous space, which allows for comfortable positioning and easy access to your hunting gear.
Key Features:
Height: 20′
Weight: 95 lb.
Weight Capacity: 300 lb.
Quiet Swiveling Seat
Best Two Man Tripod Deer Stand: Rivers Edge RE400 Outpost Tower
If you are looking for something to setup that can hold multiple hunters, look no further than River's Edge Outpost Tower.
Standing tall at 10 feet, this tripod provides an excellent vantage point for spotting game from afar. If you and your hunting buddy seek an extraordinary adventure, this tripod deer stand is the perfect choice!
With an impressive weight limit of 500 lbs, this stand ensures a safe and comfortable experience for two hunters.
Equipped with two seats and a padded shooting rail, it offers unmatched comfort and stability for precise shots.
The spacious platform allows ample room to maneuver, making those long hunting sessions a breeze.
The River's Edge is extremely well made, one of the highest quality of the stands we reviewed. It will take more time to setup and isn't designed to be taken down and moved often. With that said, once it is set up, this stand is staying put.
Key Features:
Extremely Stable
57.5″x57.5″ Platform
2 Seats Included
Padded Shooting Rail
Height: 10′
Weight: 200 lb.
Weight Capacity: 500 lb.
Runner Up: Muddy Liberty 16′ MTP3000
Another tripod stand worth considering if you want something on the tall side is the Muddy Liberty 16′ MTP3000.
Standing tall at 16 feet, this tripod offers an excellent vantage point, maximizing your visibility and shooting opportunities.
This stand has a sturdy weight limit of 300 lbs to ensure a secure and enjoyable experience for hunters of various sizes.
Equipped with a padded shooting rail, it offers a nice stable platform to take a shot from.
The spacious platform provides ample room for gear and allows for easy movement during those extended hunts.
Whether you're a seasoned hunter or a novice, this tripod deer stand is a game-changer that promises an elevated and successful hunting adventure.
Key Features:
Height: 16′
Weight: 132 lb.
Weight Capacity: 300 lb.
Swiveling Seat
Padded Shooting Rail
Runner Up: Muddy Nomad 12′ MTP8100
The Muddy 12′ MTP8100 is a solid pick especially for hunters looking for something lightweight.
Weighing only 40 lbs, its lightweight design makes transportation a breeze, perfect for hunters on the move.
The swiveling seat offers superior mobility, granting a full 360-degree view of your surroundings.
Ideal for rifle hunting, this stand ensures optimal precision and maneuverability during your pursuit.
On the downside, it lacks a shooting rail and the longer assembly time may test your patience, but once set up, its performance overshadows the wait.
If you prioritize flexibility and ease of transportation for your hunting trips, this 12′ tripod deer stand will be a good choice.
Key Features:
Height: 12′
Weight: 40 lb.
Weight Capacity: 300 lb.
Swiveling Seat
Who Should Buy a Tripod Deer Stand
Every whitetail deer hunter should at least consider hunting from some sort of blind. Many hunters are combining hunting from a stand with scent blockers like Ozonics.
Anytime you think you have a good idea of the pattern of an animal's movement and that area is well suited for a tripod stand, consider using one.
A lot of benefit can be had from hunting from a tripod stand as opposed to a tree stand.
For one thing, a well setup tripod stand can be extremely sturdy.
With the tree stand, you are always at mercy of the tree. As long as you pick a tree that is in good shape you should be okay but you still never know for sure.
Tripod stands also offer the ability to set up in more locations. You can't just drop a tree wherever you want to set up your hunting blind. But with a tripod stand, as long as there is enough space and the ground is flat enough, you are good to go.
Tripod Deer Stand Buyers Guide
Investing in the best tripod deer stand can be a game-changer for any avid hunter.
Since a good deer stand is usually not cheap, there are a number of important features you should consider before buying.
Below is a comprehensive buyer's guide that covers the factors we think you should focus on.
Height
This is probably obvious, but the whole point of a tripod stand is to get you as the hunter up and out of the view of the deer.
If you image the average height of a deer at around 3-4 ft and account for some spread in their immediate viewing angle, you probably want something that is at least 8 feet tall to be safe.
Be sure to consider the average terrain in your hunting area when selecting a height.
Taller is obviously better here but keep in mind that taller stands are more likely to become unstable.
Weight
If you plan on moving this stand around or packing it onto public land and setting it up, the weight should be one of your top considerations. Some of the stands reviewed are much too heavy to be moving around often.
You don't want to exhaust or even injure yourself carrying something too heavy before or after your hunt.
Lightweight stands are more portable and easier to get setup in your hunting spot.
Weight Limit
Make sure that the weight limit of the stand exceeds what you plan to load it up with.
If you plan on multiple people or extra gear, take that into consideration as well.
Assembly
If you are going to be assembling and disassembling your stand somewhat frequently, the ease of doing so should be one of your top considerations.
If you are only building the tripod once then maybe you don't mind having to spend a bit more time putting your unit together.
Make sure you pick something that matches up with how you plan to use it.
Also, consider stands with easy attachment points for shooting rests, gear hooks etc. if you plan on needing them.
Seat Comfort
The units we reviewed range from having swiveling seats to shooting rails, to flat platforms. Think about how you want to be spending long stretches of time and whether you will need the ability to quickly and quietly spin around.
You may also want to consider getting yourself a good hunting seat cushion to provide some additional comfort.
Noise
Keeping quiet is key when hunting. The last thing you want is a noisy tripod deer stand that scares animals away.
Be sure to test the stand's noise and stability when you set it up.
Minor squeaks and other noises can often be fixed with some oil or grease.
Accessories to Consider for Your Tripod Deer Stand
Here are a few additional accessories you might want to consider for you stand.
These heavy duty belts are well made and feature a great, secure buckle. You can use them as a belt or to hang your gear from your stand. The buckle alone makes this worth the price.
This retractable gear hoist is a great alternative to using a rope. It doesn't take much space when not in use and unwinds automatically as you climb.
It is 30 feet long which should be plenty for the stands reviewed above.
This is a well rated gear hanger system.
It is designed for use with a tree but if you need a place to hang some gear in your tripod stand you should be able to make this work.
Why Should You Trust Us?
In short, because we actually hunt and use hunting gear to improve our chances.
We are not affiliated with any of the companies recommended in this article and did not receive any endorsements.
Our reviews are based off our own experience and opinions.
If you purchase a tripod stand based on our reviews and use one of our links, we receive a small commission (usually a couple %). You do not get charged any extra. This money goes towards keeping the site running, buying more gear, and rewards us a little for the time it takes to put these articles together.
Our Verdict
Picking the best tripod deer stand doesn't have to be complicated.
As long as you give some thought to the features that matter most to you, you should be able to select one of the recommendations from this article that will suit your needs.
All around, the Millenium T-100 is going to be the best tripod deer stand for most hunters.
But all of the choices above are good choices depending on your circumstances. Be sure to consider the criteria listed in the buyers guide and make sure you get something that matches your needs.
To read more of our reviews be sure to checkout our Gear Guides page.
FAQs
Are tripod deer stands worth the money?
For many hunters, a tripod stand can be a great investment that improves the hunting experience and success rate.
They improve visibility, keep you out of sight, and can add a lot of comfort.
Whether or not the investment is worth it to you depends on where you hunt and how often you plan to use it.
How hard are these tripod stands to assemble?
It really depends on the model. Some of the stands are pretty quick and easy to assemble while others are more difficult and time consuming.
How long does it take to assemble a tripod deer stand?
Depending on the model, anywhere from 20-30 minutes to a few hours. Read through the reviews above for details on each stand.
Are the seat cushions replaceable?
All the models reviewed have replaceable seats. Contact the manufacturer directly for a replacement. Most of the seats seem to hold up well for what it is worth.
Is the height adjustable?
The height adjustment depends on the design of the tripod. Some models have some height adjustment built in, others have a small amount to account for uneven ground. Read through the reviews above for details on each specific model.
Other Tripod Deer Stands We Reviewed
While the Big Game Apex is straightforward to assemble, it did not seem quite as good for the price as the other models we reviewed. It is heavy and not as comfortable as the models above. Overall it's an okay choice, just not as good as the others in our opinion.
Key Features:
Height: 13′
Weight: 90 lb.
Weight Limit: 300 lb.
Swiveling Seat