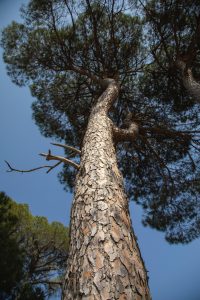 If you are looking to hunt turkeys off the roost,
the time when you have the best chance at killing a tom…
You will be excited to ready today's post.
We have found turkeys leave the roost anywhere from shoot time (5:00-6:00 a.m.) to about 9:00 a.m.
By planning ahead, this window presents the ideal opportunity to take down a nice tom.
When Do Turkeys Leave the Roost
As stated above, both male and female turkeys will leave the roost sometime between 5:00 to 9:00 a.m.
The largest factor that determines the exact time during this window is the weather.
If the weather is clear, the birds will leave the roost earlier. The gobbler will usually fly down right around first light.
When it is raining or foggy, this time will be delayed by as much as 3-4 hours.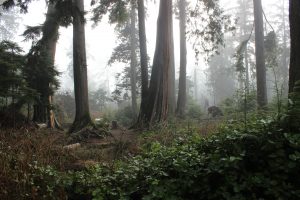 As a quick aside, the phrase rafter of turkeys used to describe a group of turkeys comes from people finding them roosted in building rafters!
How to Hunt Turkeys Off the Roost
Hunting turkeys off the roost is how you greatly improve your chances.
The best case scenario is if you know where the turkeys roost the night before.
The closer you know this position the better, but even an approximate area means you could be gutting a turkey before you know it.
Follow the steps and tips below to make sure you hunt the birds right during this critical window.
Get Into Position
If you know where the turkeys are roosted, great. Otherwise, look for transition areas in the terrain.
Try to find places where the tree line meets an open clearing.
Turkeys like these areas because they offer protection from various predators.
Position yourself about 100 yards from where you think they are roosted.
Do not attempt to get too close. You run the risk of spooking the birds, forcing them to leave the roost early and ruining your hunt.
Make sure to check your legal shoot time, and get into position an hour or so before this.
Once you have set your decoys and are in position, use face paint etc. to make sure you are well concealed (I like to sit in a hunting chair).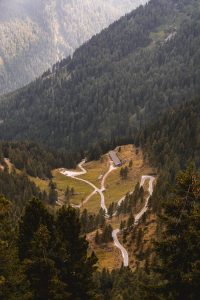 Use Decoys
If you are able to set up decoys, do it.
You want to set the decoys well inside your shooting range. Most weapons effective kill range is out to 40-50 yards, depending on the shot/ammo you use.
Position the decoys so they are about half way between you and this effective kill range.
AVIAN-X LCD Breeder Hen Turkey Decoy | Durable Realistic Lifelike Collapsible Standing Hunting Decoy with Carry Bag & Stake, AVX8008
HUNTING TURKEY DECOY - One of our most popular hunting turkey decoys ever, the LCD Breeder Hen plays up gobbler's top priority every spring: finding a mate; This lady is the ultimate temptation, displaying she's ready to breed
UNMATCHED REALISM & DETAIL - High-quality feather detail and intricate paint schemes complement this inviting pose to bring the gobblers to the hen house; From posture to paint, this level of incredible detail and superior realism is simply unmatched
HIGH PERFORMANCE - This folding turkey decoy for hunting is 15% smaller than a real turkey; This Breeder Hen Decoy mimics natural reflection of real hen feathers and offers realistic movement without unnatural spin
Call Them In
You don't want to be aggressive with your calling when hunting toms off the roost.
Start with some light gobbling until you see them leave the roost.
Then pause for a few moments to give the birds a break and so your call paints a more realistic scenario.
Next, follow up with a few more light gobbles. A scratch box can be very effective here.
Sale
Then, wait…
If you have done everything right, more often than not, the toms will start headed your way.
Be patient and give the tom time to make his way into your shooting range.
When the time comes, take a deep breath, and make a good shot.
I find that using a red dot scope for turkey hunting allows me to get on target and make a good shot much more consistently.
Summary
Hunting turkeys off the roost is one of the best ways to hunt turkey. The exact time can vary quite a bit depending on the weather but they usually leave the roost around first light.
If you follow the tips in this article you will be well on your way to feasting on some fresh wild turkey meat.
Follow the tips above and hopefully you will soon be celebrating a successful hunt.