This is our review of the best game carts for elk.
While we have written about our favorite deer game carts in the past, today's post is going to focus on carts for even bigger game.
Transporting large game like elk can be exhausting with elk weighing upwards of 700-1000+ pounds.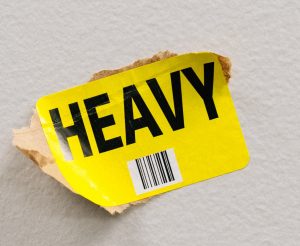 That last thing you want after a successful elk hunt is to have your game cart fail on you because you overloaded it.
While the options for large capacity big game carts are limited, luckily there are some great options but they aren't all going to be the carts you see in other articles on the internet.
Keep reading to find out which are our favorite.
Top Pick
The Kill Shot Game Cart is our number one game cart for elk. They designed this cart with the big game hunter in mind. The cart has a large weight capacity, is well built, and reasonably prices. Read on below to find out why we picked it as our top choice.
The 4 Best Game Carts for Elk
1. Kill Shot Game Cart with Tow Bar
The Kill Shot Game Cart is our top recommendation for a game cart for hauling elk.
This is the only cart on our list that is specifically designed for hauling big game.
The cart is large enough to handle big animals like elk and is rated for up to 750 lbs.
It has 20" solid rubber tires with steel spokes. These large diameter wheels make this cart really maneuverable and well equipped to cruise over rough terrain.
The frame is constructed of alloy steel tubing, held together with steel pins making it strong while still keeping the weight manageable.
One of the best features is that the cart comes with a removable hitch attachment. This allows you to use the cart by hand or hook it up to an ATV, UTV, or golf cart so you can have your vehicle do all of the hard work.
When it comes to game carts for elk, you can't go wrong with the Kill Shot. Users love it and we think you will too.
Key Features:
750 lbs. Weight Capacity
Puncture Proof Solid Tires (20″)
Designed for Trophy Game
Tow Bar Included
Adjustable Handle Heights
2. Gorilla Carts Utility Cart
Our runner up choice for the best elk cart is the Gorilla Carts Steel Utility Cart.
As you can see, cart actually isn't designed specifically for hauling game. Unfortunately in our search for large capacity game carts, the Kill Shot is the only "game cart" that we think has a large enough weight rating for elk.
But that doesn't mean this Gorilla Utility Cart won't serve you well.
In fact, it shares many of the same benefits as the Kill Shot.
The biggest difference between a utility cart like this and the Kill Shot game cart is that the utility cart is much heavier. It weighs around 75 lbs.
So, while it does have a higher weight capacity, it comes at the cost of a much heavier and bulkier cart.
If you need something you can easily break down, fold up, and throw in your truck, we recommend the Kill Shot.
But if you are okay with the added weight or are looking for something with a larger weight capacity, the Gorilla Cart is a well made cart that will get the job done.
Key Features:
1000 lbs. Weight Capacity
13″ Pneumatic Tires
Removable Steel Sides
4 Sturdy Wheels
3. Best Max Capacity Game Cart: BILT HARD Garden Cart
Are you looking for a game cart that has an extra large weight capacity? The BILT HARD garden cart is the one to check out.
This cart is rated for a whopping 1200 lbs thanks to the heavy duty steel frame.
In addition to the large weight capacity, it has some other really nice features.
The platform is large at 46" long and 30" wide and has removable sides.
The 2-in-1 handle allows you to use it as a handle grip or quickly converted to a hitch and attach it to your ATV.
The cart also has large 13" diameter air filled rubber wheels. This cart is stable against tipping and handles rugged terrain well.
Lastly, the cart comes with a 1 year warranty to ensure the quality withstands whatever abuse you can throw at it.
The biggest downside we see is that the cart is big and fairly heavy which might not be idea for some hunters.
But despite that, all in all this is a really great cart for someone looking
Key Features:
1200 lbs. High Weight Capacity
Heavy Duty Steel Construction
Four Large Oversized Tires
Heavy Duty Steel Axle
2-1 Hitch Handle
4. Best Budget Elk Game Cart: Juggernaut
Not everyone has the luxury of being able to spend whatever they want on hunting gear.
But, that doesn't mean you don't have any options for making hauling big game easier.
That's why we are recommending the Juggernaut Cart as our favorite budget game cart for elk.
While this cart is a bit stripped down compared to the carts above, it still is capable of hauling large animals in a wide variety of scenarios.
The cart doesn't have sizes and the platform is smaller than the others above but the steel frame is rated for 1000 lbs.
It has 4 air filled 10" rubber tires with steel wheels. The 4 wheel design makes it quite stable and the tires are durable and large enough to roll over rough terrain without much issue.
The cart isn't all that heavy, weighing around 35 lbs. Not bad given its load rating.
One area where the cart falls a little short is the quality of the powder coating.
It seems a bit inconsistent and the spots where the coating is lacking might rust more quickly than the carts above.
Overall, it is a pretty solid cart given the price. It definitely isn't our favorite option but it will work as long as you are okay with some of the shortcomings.
Key Features:
1000 lbs. Load Capacity
4 10″ Pneumatic Wheels
Elk Game Cart Buyers Guide
When picking a game cart for hauling big game like elk, there are some important features you should focus on.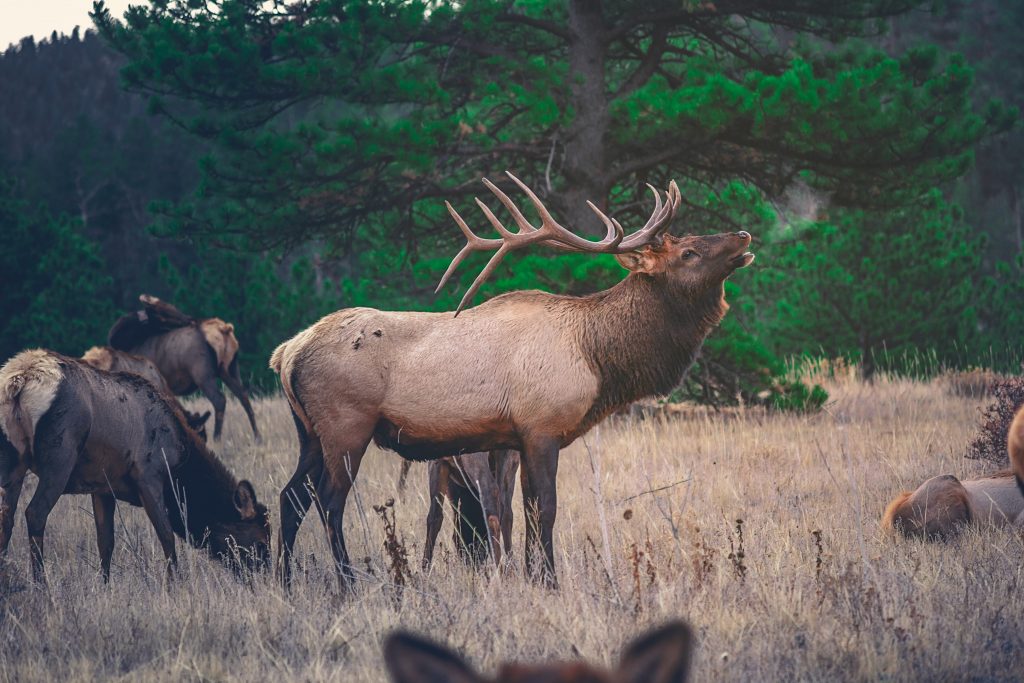 Capacity
Since we are looking for the best game cart for elk, the weight capacity is the number one thing to consider.
As we have been discussing, elk are large game.
Even elk quarters can weigh 65+ lbs.
Because of this, we think you should instantly rule out any cart made for less than 500 lbs.
While a cart rated for 500 lbs. might be able to get the job done, we think even 500 lbs. is too low.
That's why all of the carts we are recommending are for 750-1200 lbs.
Size
Elk are some of the largest game you can hunt in Northern America so make sure you go with a cart that is big enough to hold one. All the weight capacity in the world isn't going to help you if you can only fit half an animal on the cart.
Towability
I don't know about you, but the idea of pulling large game with an ATV sounds a lot more appealing than pulling the cart by hand. That is why we think a tow bar attachment is really important to consider when selecting a game cart for elk.
If your hunting situation allows for the use of an ATV, strongly consider getting a cart with a towable handle. You will be glad you did.
Number of Wheels
All of the carts recommended above have either 2 or 4 wheels. The 2 wheeled carts are going to be easier to maneuver and capable of making tighter turns if attached to an ATV.
This comes at the cost of stability. The 4 wheeled carts are going to be the most stable which is an important factor if you are hauling animals weighing 700+ lbs.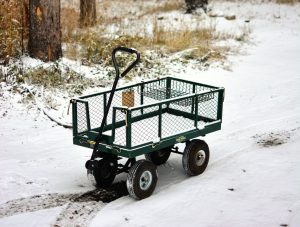 One thing is for sure, stay away from any 1 wheeled game carts for large animals like elk. The cart will just be too unstable, making it a headache to use.
Wheel Size
When it comes to wheel size, it basically boils down to this: The bigger the wheel, the easier it is to pull the cart over rocks, small logs, etc. If you are planning to use the game cart in rough terrain, you will notice a difference between large and small wheel diameters.
Wheel Material
Since we are focused on large capacity game carts for elk, it is best to avoid game carts that use wheels made out of plastic. There is a reason you only see rubber used on large vehicles like cars and bikes. We recommend sticking to game carts that have rubber wheels.
Game Carts to Avoid for Elk
Because elk can weigh so much, it is best to avoid any game cart rated for less than 500lbs. This will include most models made primarily from aluminum or those with wheels that can't support the extra weight.
Our Verdict
Hauling heavy loads like elk doesn't have to break your back. There are many great game cart options to help you.
Our favorite for most elk hunters is the Kill Shot Game Cart.
Kill Shot did a great job designing the cart for hunters looking to haul large game. The cart is durable, easy to maneuver, and has a load rating high enough for use on elk.
But all of the choices above are good choices depending on your circumstances. Be sure to consider the criteria listed in the buyers guide and make sure you get something that matches your needs.
And don't forgot, you can use these carts to haul other essential gear like your shooting rest, hunting blind, etc.
To read more of our hunting gear reviews checkout our Gear Guides page.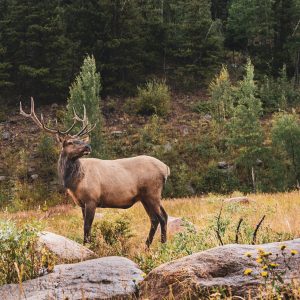 FAQs
Are game carts allowed in wilderness areas?
Current regulations are very focused on preserving wilderness areas so aids like carts with mechanical wheels are prohibited. If you are wondering if you can use a cart in the areas you hunt it is best to check with your local fish and game.
How often do the tires need air?
The Kill Shot cart has solid rubber wheels so you never have to worry about the air pressure in the tires. The other models we recommend do require air. At the bare minimum, you should check the pressure anytime you plan to use the cart on a hunt. Having low tire pressure will put the tire at much higher risk of getting a flat. Trying to haul a large animal on a cart with a flat tire is going to be a much more difficult task.
Will these carts rust?
While we haven't noticed any issues, all of the carts we recommend are made of some sort of steel alloy so it is possible for them to rust. But the carts are all either powder coated or painted which should do a good job of preventing rust unless the coating gets damaged. If you plan on leaving the cart outside we would guess that they would all start to develop some rust eventually.