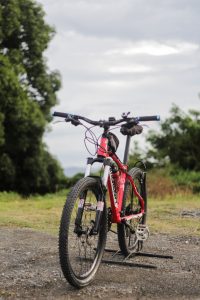 Are you interested in hunting with your mountain bike?
If so, there are a few things to consider before you hit the trail.
The post below outlines what you should consider as well as recommends some gear that will come in handy when hunting from a mountain bike.
Carrying Your Gear on a Mountain Bike
If you want to hunt with a mountain bike then you need to consider how you are going to haul all your hunting gear.
Are you going for a day hunt or overnight?
What are you going to do with an animal if your hunt is successful?
These are just a couple of the questions you need to ask yourself before hunting from a mountain bike.
Rack for Gear/Weapon
Riding a bike with a lot of heavy gear and a weapon strapped to your back will be quite challenging to balance.
Most mountain bike hunters attach a rack above their rear tire so they can off-load some of their gear there.
Sale
Towing a Cart
A great way to carry extra gear and give you a place to haul an animal out is by towing a deer cart behind your bike.
There are already deer carts on the market that can easily be attached to your mountain bike.
Lock It Up
Since you will probably set out on foot once you reach your destination you want to make sure your bike stays safe while you do so.
Find a hidden spot off the beaten path to stash your bike. Behind some brush or down a hillside are good places to hike it.
Also consider bringing a lock that will allow you to secure the frame to a tree large of at least 6-8″ in diameter.
Sale
Fix-A-Flat
The last thing you want is to have to walk your bike back to your truck because of a flat tire. Flat tires are easy to fix if you have the right gear.
Bring an extra tube that fits your tire as well as a kit for fixing flats. In the event that you blow a tire you will be thankful you did.
Advantages of Hunting With a Mountain Bike
Hunting with a mountain bike can offer many advantages. On a bike you will be able to cover a lot more ground than if you are on foot.
Many hunters on foot are unwilling to hike more than a few miles. By riding a mountain bike, you will be able to go much further and access terrain that sees much less traffic.
You can also attach a deer cart to your bike and tow it behind you.
This can make carrying gear and/or a stand much easier. Carrying a stand more than a short distance can be exhausting. If you tow it in you will burn far less energy and be more focused for your hunt.
Lastly, compared to hunting from a motorized vehicle, hunting with a mountain bike is a great way to get exercise without overexerting yourself.
The guys behind Born and Raised Outdoors do a fair amount of hunting off of mountain bikes in their videos. Check them out below.
Things to Keep in Mind
Many wilderness areas do not allow bikes. Be sure to check ahead of time before you go through the trouble of bringing your bike with you.
Additionally, the ebike market has been growing like wildfire the last few years. Although ebikes are awesome and can allow you to travel even farther with less strain, many areas consider them motorized vehicles and hence are not allowed. Again, be sure to check with the authorities governing your hunting area before hunting with an ebike.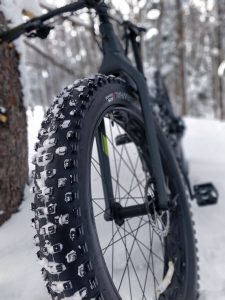 Tire Size
One last thing to think about is tire size. Fat tire bikes have become popular with hunters because of the increased stability they provide and because they are easier to ride on rough terrain.
Before you run out and buy one you should also know that the maneuverability of these fat tire bikes is not as good as a standard mountain bike. In our opinion, any tire wider than 2.4″ will be just fine for hunting. Especially if you already own one, try it out first before making a bike investment in a new bike.
If you don't already own a good pair of hunting boots and a good pair of binoculars, we would argue those are better investments for most hunters.