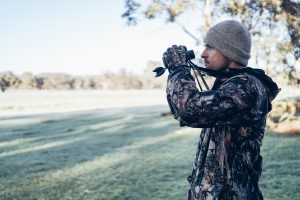 This is our review of the best binoculars for turkey hunting.
The sun isn't even up yet…
You think you see some turkeys over in the tree line…
But you can't tell…
What you need is a good pair of binoculars.
Nowadays there are so many companies and models to choose from.
When picking a pair of binoculars for turkey hunting, you want a pair that is nice and compact, have a good image quality, and will hold up to the abuse hunters put their gear through.
In this article we highlight exactly which pairs we think you should consider and why we like them.
Top Pick
After reviewing all the popular binoculars on the market, we selected the Vortex Diamondback 10×32 as our top pick. The image quality is spectacular for how compact they are. You can get them at a reasonable price and they come with a lifetime warranty. They are a perfect choice for turkey hunting.
The 5 Top-Rated Turkey Hunting Binoculars
Best Binoculars for Turkey Hunting: Vortex Diamondback 10×32
If you are looking for the ultimate turkey hunting binoculars, the Vortex Diamonback 10×32 are a fantastic choice.
Vortex has developed a reputation for offering excellent quality optics at affordable prices. We were unsure how well this would translate to a compact 10×32 pair. Let's just say, we were not disappointed.
Thanks to the roof prism design, the image is well lit and crisp even in low light situations.
They are nice and compact at 4.4 x 5.0″, small enough that they will fit nicely in your shirt of vest pocket and they only weigh 16.0 oz.
Vortex uses a special Armortek coating on the exterior lenses to protect them from getting scratched by dirt and other debris.
The exterior is made from a rugged, durable rubber coating. These binoculars are both waterproof and fog proof.
You can also mount them to a tripod with an adapter if you prefer.
One of the best features is the spectacular lifetime warranty that comes with all Vortex optics.
Overall, you really can't go wrong with these. We think you will be very happy with them for years to come. Highly recommended.
Key Features:
10×32
4.4 x 5.0″
Weight: 16.0 oz
Waterproof/Fog Proof
Lifetime Warranty
Best High End Binoculars for Turkey Hunting: SWAROVSKI 10×25
If you are willing to spend the money, the SWAROVSKI 10×25 are nothing short of amazing.
SWAROVSKI is a well known manufacturer of high end optics. Most of their models cost thousands of dollars.
Given that you can get these for less than $1000, we think you are getting top notch performance at a reasonable (although still high) price.
Like the Vortex, these also use a roof prism design. The image quality is certainly the best of any we reviewed.
These are even more compact at only 4.3 x 3.9″ and are super lightweight at 12.3oz.
Once you hold these in your hands, you can sense the level of quality, design, and workmanship that goes into these.
We personally think these are the best performing compact binoculars on the market. The only reason we rate them slightly lower than the Vortex is due to the price. If you are willing to spend the money, you will be thrilled with their performance.
Key Features:
10×25
4.3 x 3.9″
Weight: 12.3 oz
Waterproof/Fog Proof
Great Warranty
Runner Up: Leupold BX-1 Rogue 8×25
Our next runner up is the Leupold BX-1 Rogue 8×25. While not quite on par with the Vortex, we still think these are great binoculars.
The BX-1 are super compact, easily small enough to fit in the palm of your hand.
The image quality is good. These use an inverted Porro prism design.
The exterior is rugged, waterproof, and these are covered by Leupold's limited lifetime warranty.
Overall, these are a solid little pair of binoculars that would serve you well out in the field.
Key Features:
8×25
Length: 4.3″
Weight: 12.7 oz
Waterproof/Fog Proof
Runner Up: Pentax AD 8×25
Our second runner up is the Pentax AD 8×25.
These binos feature a combination roof and porro prism design that offers solid image quality in a compact 4.1 x 4.3″ footprint.
They are foldable and will easily fit into a shirt or vest pocket.
The shell is made from a fiber reinforced polycarbonate, making these weigh only 10.6oz. They are the second lightest binoculars of the 5 we recommend.
They are nitrogen filled to prevent fogging and are waterproof. Pentax designs these so they can be used in extreme weather conditions.
Key Features:
8×25
4.1 x 4.3″
Weight: 10.6 oz
Waterproof/Fog Proof
Best Budget Binoculars for Turkey Hunting: Nikon Trailblazer 8×25
For those of you on a tight budget, we recommend the Nikon Trailblazer 8×25 binoculars. These offer some great features at this price point.
The image quality is still pretty decent. The optical design is based around BAK4 roof prisms combined with various coatings to minimize glare and provide high light transmission.
The body is made from a rugged rubber armor  which should be plenty durable for turkey hunting. These are the lightest binoculars we reviewed, weighing only 9.9 oz.
Nikon fills them with nitrogen to minimize fogging and they are waterproof like the rest of our recommendations.
Key Features:
8×25
4.1 x 4.5″
Weight: 9.9 oz
Waterproof/Fog Proof
Who Should Buy Turkey Hunting Binoculars
If you hunt turkey, a pair of binoculars should be a part of your gear set. Turkeys have excellent vision. Being able to spot turkeys at a distance is invaluable.
There are times when turkeys don't respond well to calling. Times like these are when your binoculars really come in handy.
You can use your binos to spot turkeys at a distance which you can then attempt a stalk to bring yourself in range.
Quite often when hunting turkeys, you are hunting during low lit parts of the day. Having a good pair of binoculars will make those poorly lit turkeys much easier.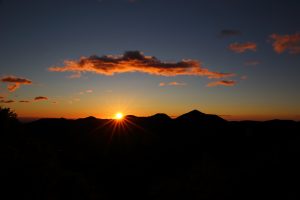 Turkey Hunter's Guide to Binoculars
Compact. When hunting turkeys, a small compact pair of binoculars are much more convenient than the larger styles typically used for hunting big game. You don't want a pair so big that you have to hang them around your neck. Look for a pair small enough that you can fit them into your vest or jacket pocket. Being able to hold them with one hand keeps your other hand free for calling etc.
Image Quality. When it comes to optics, the quality of the glass you get is equal to the price you pay. It is rare to find cheap, exceptional binoculars. With that said, in our experience, Vortex hands down makes the best image quality optics for the price. With that said, the quality of the SWAROVSKI's above is noticeably better than even the Vortex Diamondbacks but come at a hefty cost.
Durability. If you hunt turkeys, you will be out there in the cold, the rain, and the mud. It is easy to drop your binoculars, get them wet, or get them dirty. You want to pick a pair that is made by a manufacturer that has a good reputation for making quality optics. This is where low costs manufacturers fall apart. They try to cut corners by using cheap components, glue, etc. and the first time you drop the binoculars, they are toast.
Warranty. Do to the potential damage that harsh conditions can do to your binoculars, buying from manufacturers that offer warranties has a lot of merit. All of the models recommended above come with some form of warranty.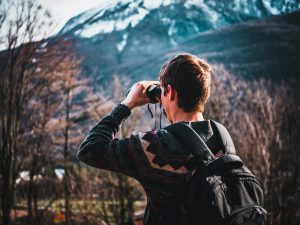 FAQs
Are these binoculars waterproof?
All of the models above are both waterproof and fog proof.
Can they be mounted to a tripod?
Mounting your binoculars to a tripod is a great way to glass when surveying large areas when hunting large game. It is not something that is done very often when hunting turkey. With that said, of the models we recommend, only the Vortex are capable of being mounted on a tripod. They may require an adapter.
Do any of these binoculars come with a neck strap?
All modes above come with a neck strap.
Final Thoughts
A good pair of compact binoculars are an important piece of gear for turkey hunting. Hopefully this article will help you select the right binoculars and will have you seeing more turkeys next season.
The Vortex Diamonback 10×32 are an excellent choice for any turkey hunter looking to buy a pair of binoculars that will last a lifetime.