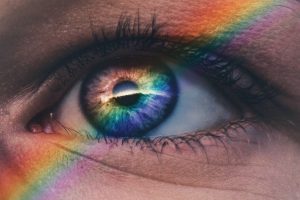 Have you ever been spotted by a turkey?
If you have, you might be curious how well they can see.
It turns out, turkeys have phenomenal eyesight.
How Far Can a Turkey See
Turkeys can be one of the most challenging wild animals to hunt.
Much of this is due to their somewhat legendary eyesight. Many experts say turkeys have some of the best vision of any animal.
Turkeys have at least 3x better vision than us humans according to Scientific American.
Turkeys can see at least as far as humans, if not farther. This means that turkeys can see up to 2-3 miles if their vision is unobstructed.
Don't worry, all hope is not lost. There are still ways to effectively hunt turkey but you need to be mindful of how well they can see.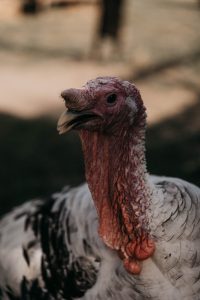 Turkey's eyes are on the sides of their head, giving them a 270 degree field of vision. With just a slight turn of their head, they are able to see a full 360 degrees.
There is little overlap between the two images that each of their eyes see, giving turkeys very poor depth perception.
This means they have monocular vision as opposed to us humans which have binocular vision.
The reason we humans can perceive depth so well is because there is so much overlap between the two images from our eyes. This is the basic principal being used in stereo vision for technology used on self-driving cars.
Turkey's wide field of vision means they can see much more of their surroundings at once, keeping an eye out for potential predators.
What Colors Can Turkey See
Turkey's have the ability to see a wider spectrum of light than humans. They are able to see some portion of the UV spectrum of light (down to 400nm wavelength).
They are not nearly as color blind as deer.
So, in addition to the colors we can see, turkeys can perceive blue and ultraviolet light very well. This is why it is so important not to wear clothing or use detergents with UV brighteners in them. Even though they look camo to you, you stick out and glow to a turkey.
To help combat this, you can use a UV killer like shown below.
Sale
Can Turkeys See Red Light?
Yes, male and female turkeys can see red light and they can see it well. If you are wondering whether or not you can use a red flash light without spooking them, we would recommend you don't.
In fact, you should try your best not to use any light at all. If you need to use one getting into your hunting location early in the morning, limit your usage as much as you can and try to be quiet so you don't wake them while they are sleeping.
Some hunters claim to use the green Streamlight below with some success, but we are still skeptical.
Day and Night Vision
Turkey's vision varies greatly from day to night. Although it has photo receptors to see UV light, the structure of their eye does not permit them to see well at night time. You may have noticed they become extra skiddish at night. Now you know why.
Their poor eyesight at night is why they nest up in a roost, out of danger from predators they are unable to see.
How to Avoid Getting Seen By Turkeys
Given all of the facts above, here are some tips to help you from getting spotted by a turkey:
Minimize Movement. In order to avoid getting seen by a turkey, you have to remain as still as possible, especially once they are within 100 yards.
Wear Camouflage. Do your best to wear camo that matches terrain you are hunting. I even use a camo hunting chair. Cover your face using face paint or with a good face mask. Make sure to cover your hands with some camo gloves as well. Make sure you even the odds by using a good set of turkey hunting binoculars.
UV Killer. Use a UV killer as stated above and try to purchase camo clothing that doesn't use UV brightened dyes during manufacturing.
Call Like a Pro. The best way to draw a turkey in close is by doing a good job calling. Our personal favorite is a good scratch box call.
Summary
As we have stated, turkeys have great eyesight. They can see you from much farther away than you can see them. They can see red, green, blue, and UV, giving them better color eyesight than humans. Their ability to see greatly diminishes at night. Because their eyes are on the sides of their head, they are unable to see well in 3D.
Use the tips given above to help getting spotted by turkeys on your next hunt. They might mean the difference between a successful hunt and going home empty handed.