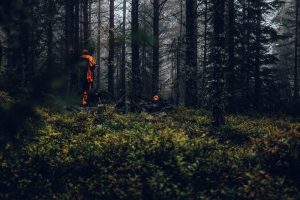 So you are looking for a blaze orange hunting vest. Probably because your state or the state you are heading to requires it.
There are tons of options out there to choose from so we went ahead and reviewed all that we could find.
Our favorites from our research are listed below.
We tried to focus on vests that provided benefits beyond just being orange. Specifically, we focused on comfort, durability, and vests that have additional uses like storage.
Top Pick
After researching all the vests we could find on the market, we picked Cabela's Blaze Full-Feature Vest as our top pick. It offers the best blend of comfort and quality. It is made from durable 100% polyester and has 2 well sized cargo pockets in the front.
The 5 Top-Rated Blaze Orange Hunting Vests
Best Blaze Orange Hunting Vest: Cabela's Blaze Full-Feature
Cabela's Blaze Full-Feature vest offers the best bang for your buck of any vest we could find on the market. Many of the brands we reviewed had issues with quality or sizing but luckily that isn't the case with this one from Cabela's.
The vest is zippered in the front to make it easy to put on and take off. It has two roomy pockets in the front for you to store snacks or other gear.
It is made from 100% polyester and is well constructed.
Key Features:
100% Polyester
2 Cargo Pockets
Zippered Front
Runner Up: Sitka Ballistic Vest
The Ballistic Vest from Sitka is a really nice vest. It is the highest quality vest on our list but that quality comes at a cost.
If you are willing to spend the money, this is the vest you want.
The Ballistic Vest has some really nice features. First, instead of using a zipper in the front, Sitka uses magnets to keep it closed.
Next, it includes a removable pad in the vest for dealing with recoil.
The fabric is high quality, and repels water. It has zippered pockets, and the waistband is adjustable as well.
All in all, if money is not a problem, get this vest.
Key Features:
Water Repellent Finish
Magnetic Buckle
Shoulder Pad
Zippered Pockets
Runner Up: Gamehide 201
The Gamehide 201 vest is a vest we really like. It is available in a cool looking, naked north orange camo. There are some states like Wisconsin that require at least 50% of your orange camo clothing is blaze orange. This pattern should have no problem meeting that criteria.
This vest has a few extra pockets, with 3 on the front and 1 in the back.
The only thing to watch out for is that it runs big. You might want to consider ordering a size smaller than you normally would.
Key Features:
100% Polyester
4 Pockets
Zippered Front
Runner Up: Under Armour Blaze Vest
Under Armour's Blaze Vest is another great choice for hunters. It is also 100% polyester, making it nice a quiet when you are moving around in the field.
The vest has 2 pockets on the front with snaps to secure them shut.
What is a little different about this model is that the zipper goes all the way up the front instead of half-way like other models.
Overall, this is a quality, well-made vest at a reasonable price. It will serve you well.
Key Features:
100% Polyester
2 Pockets with Snaps
Full Front Zipper
Best Youth Blaze Orange Hunting Vest: Browning Safety Junior Vest
A blaze orange hunting vest is a great idea when bringing youth along hunting. Our pick for them is the Browning Safety Junior Vest.
The vest is specifically designed for junior hunters. It has 2 buttoned pockets and a zipper in the front.
It is well made and inexpensive, making it a great choice for young hunters.
Key Features:
Designed for Juniors
2 Pockets
Zippered Front
Who Should Buy a Blaze Orange Hunting Vest
Before hunting in any state you should check the state's laws regarding blaze orange requirements. There are only a few states at this point that do not require hunters to wear any blaze orange.
Beyond that, the rules and regulations vary quite a bit from state to state. Many states have a requirement that a certain number of square inches of your body be covered by blaze orange. Other states like Wyoming only require an orange garment.
Anytime you are hunting on public land you should consider wearing at least some blaze orange, even if your state doesn't require it. Hunting is growing every day which means more and more hunters on public lands. It is best to wear some orange for safety to ensure you are easily spotted by other hunters.
Important Features to Consider
Fit. A lot of times blaze orange vests are way too big. It is important to get one that fits your body. Make sure to think about what you will be wearing underneath. You might want to leave a little room for a few layers of clothing.
Pockets. Since your vest will be your outermost layer of clothing, having a few pockets on the vest can come in handy for keeping stuff like snacks, knifes, calls, winder checker, etc.
Zipper. Having a zipper on your vest does a much better job at keeping the vest from flopping around. Many cheap, mesh orange vests don't have a zipper, and frankly they suck. All of our recommendations above have some sort of zipper.
Quality. You don't want your vest to start falling apart during your first hunt. Believe it or not, some hunters reported this happening on some of the vests we looked at during our search. All the vests above are well made and you won't have to worry about them falling apart.
Frequently Asked Questions
What states require blaze orange?
All but a handful of states require some form of blaze orange at this point. A few that don't are Alaska, Arizona, and California. This is subject to change at any time, so always check with your local authorities. We found this list to be a helpful reference to compare different states.
Will deer spot me if I wear blaze orange?
Based on the research, no. As outline in my article researching what colors deer can see, the conclusion is that deer have trouble telling the difference between green and red.
Whatever you do, don't wear blue and make sure your clothing is not filled with UV brighteners.
Blaze Orange Vests to Avoid
Hunter Specialties Safety Vest
While we don't disagree it is okay given how cheap it is, we think if you are going to wear a blaze vest when hunting you might as well invest a bit more and getting something well made. We are only talking a few cups of coffee difference between this and something like the Gamehide 201 above.