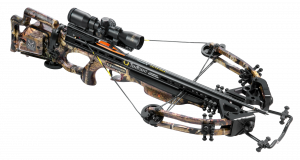 Looking to add a new hunting method to your turkey hunting pursuit?
A crossbow is a very fun and effective way to hunt turkeys.
If you have never shot or hunting with a crossbow before, you are in for a treat.
In this article we list exactly which crossbows on the market we like the best.
We hope the reviews below will help you select the right bow for you.
Top Pick
After looking at a lot of different crossbows available, we selected the Barnett Whitetail Pro STR as our top pick. This crossbow is deadly accurate and very powerful. It is a great choice for hunters looking to add a crossbow to their methods of take.
The 5 Top-Rated Crossbows for Turkeys
Best Crossbow for Turkey Hunting: Barnett Whitetail Pro STR
If you are looking for the best all around turkey hunting crossbow, checkout the Barnett Whitetail Pro STR.
Barnett makes a wide variety of popular crossbows for hunters, and this is our favorite of their offerings.
The accuracy of this crossbow is nothing short of outstanding. You won't have any trouble accurately placing shots within 50-60 yards.
With a draw weight of 187 lb. and stroke of 16.375″, this thing puts out a whopping 140 ft. lbs. of energy with arrows traveling at 400 ft/s.
The anti dry fire trigger eliminates dry fires and feels crisp.
Overall, we think you will be happy with this bow and it is a great choice for hunting turkeys. If this one is a little pricey, don't worry, we have a few less expensive picks below.
Key Features:
Arrow Speed: 400 ft/s
Draw Weight: 187 lb.
Anti Dry Fire Trigger
Weight: 6.9 lb.
Runner Up: TenPoint Viper S400
Our next pick can be considered more of a high end crossbow. The TenPoint Viper S400 is for serious crossbow hunters.
TenPoint has been making crossbows for close to 30 years so you can be sure they know how to make a quality crossbow.
This particular model is designed to be compact yet still pack a whopping 135 ft. lbs. of energy.
The quality of this crossbow is top notch. The cables and pulleys are well made and resistant to wear. It is easy to set up. And, this thing is extremely accurate.
One of our favorite features is the ACUslide cocking/de-cocking mechanism. It makes the crossbow much more enjoyable to shoot, so much so that we almost made it our top pick based on this alone. It only requires 5 pounds of force to cock!
The trigger on this bow is awesome as well. It is a 2-stage, 3.5 lb. trigger that has virtually no creep and is insanely crisp.
The bow comes with a scope, quiver, and 3 carbon arrows to get you started.
The only reason we ranked it slightly behind the Barnett is the higher price.
Key Features:
Arrow Speed: 400 ft/s
ACUslide Cocking/De-Cocking
Weight: 7.5 lb.
Runner Up: Excalibur E95857
Next up is the Excalibur E95857.
The quality of this crossbow is what really stands out. You can tell it is very well made.
This crossbow is really compact and thus requires a larger draw weight to get the same amount of energy out of the arrow.
Due to how compact the bow is, Excalibur is able to make it a lightweight 5.4 lb.
The only downside is that with the high draw weight it is a little tough to cock. You will want to consider getting the cocking mechanism which is not included, hence why we ranked it behind the others above.
Key Features:
Arrow Speed: 355 ft/s
Draw Weight: 280 lb.
Weight: 5.4 lb.
Runner Up: Barnett Whitetail Hunter II
The next runner up is another Barnett, the Whitetail Hunter II.
The specs on this crossbow aren't quite what the STR offer but are still more than adaquate for hunting turkeys.
For the price, this crossbow really offers a lot. It includes:
A cocking device for easier cocking
A 4×32 scope
2x 20″ arrows
Lube wax
It comes with everything you need to start hunting with a crossbow. It is an excellent pick for those new to this style of hunting.
Key Features:
Arrow Speed: 350 ft/s
Weight: 6.4 lb.
Tons of Accessories
Best Budget Crossbow for Turkey Hunting: CenterPoint Sniper 370
If the crossbows above are a bit out of your price range, consider the CenterPoint Sniper 370.
For the price, this crossbow is hard to beat.
Despite the low price, it still shoots arrows at an impressive 370 ft/s.
The stock and foregrip are adjustable so you can get the fit right for your frame.
It has an ambidextrous safety for your leftys out there and the trigger has an anti dry fire feature.
The crossbow comes with 3 arrows, a quiver, rope cocker, and a 4×32 scope.
CenterPoint offers a limited 5 year warranty.
Key Features:
Arrow Speed: 370 ft/s
Draw Weight: 185 lb.
Weight: 8 lb.
Ambidextrous Safety
Anti Dry Fire Trigger
Who Should Buy a Crossbow for Turkey Hunting
Crossbows work great for hunting turkeys. They have many advantages:
They are very effective within 50-60 yards (For more info on getting a turkey within this range, take a look at our article on how often to call a turkey.)
They are quiet
And they are easy to shoot
If you have never hunter turkey's with a crossbow, make sure to check out your states regulation regarding their use. Some states allow crossbows to be used during archery season, while others only allow them during rifle season.
Checkout these US Crossbow Regulations on TenPoint's website for more info.
One of the big benefits over hunting with a gun is that they don't send everything running like a gun does with it's loud bang. This can offer you multiple shot opportunities if you happen to miss etc.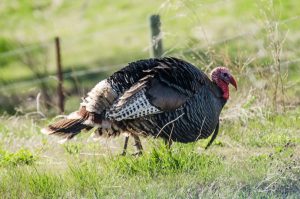 When shooting a turkey with a crossbow, your aim is important. You want to make sure your arrow (sometimes referred to as a bolt) hits the turkey's vitals. If you are aiming broadside, aim just in front of center mass, right about the elbow of the turkey's wing. This will ensure you make a clean, effective kill.
Also worth noting, you need to wax the bow strings often, every 10 shots or so. For recommendations, checkout our favorite bow string wax.
Important Features to Consider
Arrow Speed. The speed of the arrow is one of the biggest differences you will notice as the price of the crossbow goes up. Faster arrow speed translates to your arrow carrying more kinetic energy to your target.
Draw Weight. Draw weight is the amount of force required to draw the crossbow to a fully cocked position. It is part of what determines the total energy that the arrow leaves the crossbow with. The combination of the draw weight and draw length are what give you the total energy.
Trigger/Scope. The trigger and scope are a couple other things to consider when buying a crossbow. In general, the lighter and crisper the trigger, the better. While all the crossbows recommended above come with a scope, all scopes are not created equal. The scope plays a big part in the accuracy of the bow. It must give you an accurate representation of the target while giving you enough field of view to place shots effectively.
Weight. While it shouldn't be your primary consideration, all else being equal, you would prefer a lighter crossbow over a heavier one if you plan to carry it around while you hunt. If you don't plan on moving much then it might not be as much of a concern for you but we like to try to save weight wherever we can. One handy accessory is a good bow hanger.

FAQs
Is the scope included?
All of the models recommended above come with a scope, typically 4×32.
What is the max range of a crossbow?
This depends on how accurate of a shot you are but in general they are very effective inside of 60 yards.
Can I add a red dot scope to a crossbow?
Yes, it is possible to swap out the scope that comes on a crossbow with a red dot scope. Checkout our article for recommendations on the best red dot for turkey hunting.