Welcome to the world of deer communication! If you're eager to learn about the "best licking branches for deer," you're in the right place.
Licking branches are a vital part of how deer talk to each other. They can be like a calling card deer use to leave messages for each other, helping them share important information without meeting face to face.
In this guide, we will dive deep into understanding these special branches and their role in deer communication.
To start, we review our favorite licking branches for deer hunting on the market.
Then, we'll explore how to set up the ideal licking branch, the significance of scent, and how to attract deer effectively. You'll learn about common mistakes to avoid and get answers to frequently asked questions.
By the end of this guide, you'll have a solid grasp of how to use licking branches to observe and interact with deer successfully.
Best Licking Branch for Deer Hunting: HODAG Licking Stick System
The HODAG Licking Stick System is a product designed to enhance the interaction between deer and hunters by simulating a natural licking branch.
It's a tool that aims to attract deer to specific locations, allowing for better observation and hunting opportunities. The system includes a flexible and sturdy stick, a base to secure it to the ground, and all-weather adhesive scent.
Many who have used the HODAG Licking Stick System have had positive experiences, successfully attracting deer and interacting with them using this system.
The ease of installation is a big plus. The setup process is straightforward and not time-consuming.
The HODAG Licking Stick System delivers. The system does a great job of getting that mature buck to a specific location.
Pros:
Ease of Use: Simple to set up and does not require advanced skills or tools.
All-Weather Use: Designed to withstand various weather conditions, ensuring durability and long-term use.
Enhanced Attraction: Comes with an adhesive scent that attracts deer, increasing the chances of interaction.
Versatile Placement: Can be placed in various locations to attract deer to desired areas.
Cons:
Cost: Some users might find the product to be a bit pricey compared to other alternatives.
Limited Scent Options: The product comes with a specific adhesive scent, limiting customization options.
The HODAG Licking Stick System stands out as a comprehensive solution for individuals seeking to enhance deer interaction and observation.
Despite a few limitations, the overall functionality, ease of use, and effectiveness in attracting deer make it a worthy investment for hunters.
Runner Up: BuckStik
BuckStik (Buckstick) with 3 Pack of Glands. All in one Licking Stick, Rubbing Post and Mock Scrape System
Buckstik: All in One licking Branch, Rubbing Post and Mock Scrape, designed to harness the power of glands while also collecting Deer DNA to create the most powerful deer attractant on the market. BuckStik is the MOST EFFECTIVE Licking branch, rubbing post, and mock scrape tool that incorporates the scent of the 3 individual glands deer use to communicate.
Sets Up in Seconds, Holds and Retains Deer DNA (Gland Secritions/Hair) better than any natural branch, Lasts for Years and can easily be transported from property to property, stand to stand.
Designed to stratgeically present the three main glands at the ideal height for interaction.
The BuckStik is a system designed to mimic natural deer behavior, encouraging deer to interact with it as they would with a natural licking branch, rub, or scrape.
It's crafted to be a year-round deer communication post, helping hunters and wildlife enthusiasts attract and observe deer effectively.
But instead of allowing the user to select their own branch, it comes as an all-in-one licking, rubbing, and mock scrape.
We personally prefer the flexibility of selecting and preparing the branch ourselves but if you are looking for an all-in-one, already done solution, it is a solid pick.
Pros:
Multi-Functional: Acts as a licking, rubbing, and scent post, offering diverse interaction points for deer.
Durable Construction: Built to withstand the elements and deer interactions, ensuring longevity.
Customizable Scent Application: Allows users to apply their choice of scents to attract deer.
Height Adjustable: Can be adjusted to various heights to suit different environments and deer types.
Cons:
Size: A little bulkier compared to other HODAG.
Flexibility: Doesn't allow you to select your own branch for licking.
The BuckStik's multi-functional design, durability, and customizable scent application make it a robust choice for enhancing deer interaction and observation, despite minor concerns regarding size and flexibility.
Understanding Licking Branches
Licking branches are more than just parts of a tree to deer. They serve as a communication hub where deer can leave and receive messages from each other.
Deer will lick, rub, and leave their scent on these branches, letting other deer know about their presence and other details.
They help deer stay in touch with each other, share information about their presence, and even help them find mates during the breeding season.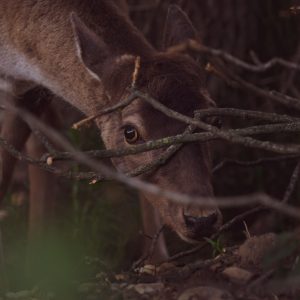 How Do Deer Use Licking Branches?
Deer use the branches by leaving their scent on them. They may rub their foreheads, which have scent glands, on the branches.
This deer scent acts as a message to other bucks that pass by the branch later.
Deer urine also plays a role in communication between deer, especially for bucks both before and during mating season.
For hunters and wildlife enthusiasts, understanding the role and importance of licking branches in deer communication is crucial.
It helps in setting up effective mock scrapes and licking branches, ensuring successful attraction and interaction with both bucks and does.
Setting Up the Ideal Licking Branch
Creating a mock scrape and licking branch is a practical way to attract deer for observation or hunting. It's about understanding deer behavior and using that knowledge to encourage deer to visit a specific location.
Here's a straightforward guide to making an effective mock scrape and licking branch.
Step 1: Observe and Choose
Start by spending time in the woods to understand the paths deer usually take. Look for trails, crossings, and clearings where deer are often seen.
Choose a location that is frequently visited by deer.
It's essential to place the licking branch in an area that deer already visit, like trails or near food and water sources.
You should already be familiar with these areas if you have scouted or looked for a spot for your tree stand.
Step 2: Select the Branch
Next, pick a branch that is strong and flexible. It should be a branch that can withstand the deer's interaction.
The branch should be similar to those naturally used by deer in the wild.
This will help make them feel more comfortable and willing to interact with it.
Watch out for overhanging limbs that may block a big buck from accessing it.
Step 3: Secure the Setup
Attach the selected branch securely at a height that is easily reachable by the deer. It should be stable and fixed so that it doesn't fall off with the deer's interaction.
Step 4: Place Scent
Apply a natural scent to the branch. This scent should mimic the smells of the forest and should attract the deer to the branch.
Be careful to use a scent that is familiar and appealing to the deer. Using rubber gloves can minimize passing along your own scent.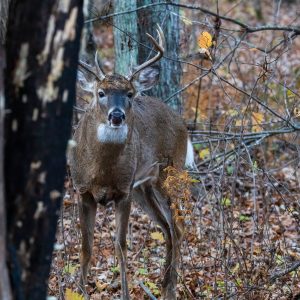 Step 5: Step Back and Observe
Finally, step back and watch. Give the deer time to discover the mock scrape and licking branch.
Setup a game camera so you can observe their behavior and interactions with the branch, and make adjustments as needed to ensure it remains an attractive and engaging spot for the deer.
Step 6: Regular Maintenance
Don't just set it and forget it. Regularly check your trail cameras and the licking branch and reapply the scent as needed to ensure it remains attractive to deer.
The Role of Scent in Licking Branches
Scent plays a crucial role in the world of deer and licking branches. It acts like a magnet, pulling mature bucks in and encouraging them to interact with the branch. Let's dive into understanding the importance of scent and how to use it effectively.
Choosing the Right Scent:
Picking the right scent for your licking branch is essential. Use natural scents that deer are familiar with and are attracted to. Avoid strong, artificial smells as they can scare deer away.

One important consideration to keep in mind, the contents of the scent may not be allowed to be "bait" during hunting season in some states.
What qualifies as bait will depend on where you live. Make sure you check with your local authorities.
The best way to deal with this is to use something like the proprietary blend from HODAG which does not contain deer urine or glands so it is not considered a bait.
Common Mistakes to Avoid
Setting up a licking branch for deer is exciting, but it's easy to make mistakes if you're not careful. Let's look at some common errors and how to avoid them.
1. Choosing the Wrong Location:
2. Using the Wrong Branch:
Mistake: Selecting a weak branch that can't withstand deer interaction.
Solution: Choose a sturdy, natural branch that can handle the deer's touch and rubbing.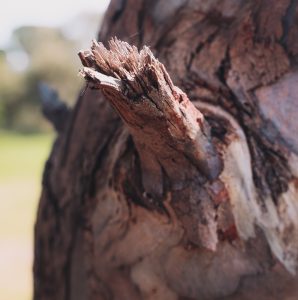 3. Ignoring Scent:
Mistake: Forgetting to apply or reapply natural scent to the branch.
Solution: Regularly apply a natural, appealing deer scent to the branch to attract deer.
4. Disturbing the Area:
Mistake: Frequently visiting and disturbing the area around the licking branch, leaving human scent.
Solution: Limit your visits to the area to keep it calm and natural for the deer. Consider setting up a trail camera instead. Use a cover scent.
5. Not Securing the Branch Properly:
Mistake: Not attaching the branch securely, leading it to fall off.
Solution: Ensure the branch is firmly fixed and check it regularly to ensure it stays in place.
By avoiding these common mistakes, you can create an effective licking branch that will successfully attract deer and allow you to observe or hunt them more effectively.

Conclusion
Setting up the perfect licking branch for deer is a journey filled with learning and observation.
It's about understanding the language of the wild and creating a space where mature bucks feel comfortable and eager to communicate.
From choosing the right location and branch to understanding the power of scent and avoiding common mistakes, each step is a crucial piece of the puzzle.
Remember, patience is key. Give the deer time to discover and interact with the branch.
As you step back and observe, you'll find yourself becoming a part of the beautiful dance of nature, learning the rhythms and patterns that paint the world of the wild.
FAQs
Why do deer use licking branches?
Deer use licking branches as a way to communicate with each other. They leave their scent on the branch by licking, rubbing, and touching it, which sends messages to other deer about their presence and other information.
How can I make my licking branch more attractive to deer?
To make your licking branch more attractive, choose a branch that is sturdy and at the right height for deer. Apply natural scents that deer are attracted to. Place the branch in areas where deer frequently travel, like trails or near food and water sources.
What are the best materials to use for a licking branch?
The best materials for a licking branch are natural branches that are strong and can withstand deer interaction. Avoid using materials that have strong, unnatural odors or that may harm the deer in any way.
How often should I check my licking branch?
It's a good idea to check your licking branch regularly, at least once a week. This allows you to make sure it's still securely in place and to reapply scents as needed.
However, try not to disturb the area too much to keep it as natural as possible for the deer.