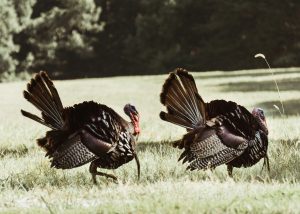 You see a nice gobbler about 100 yards away…
You try calling him in with your favorite mouth call…
No luck.
You switch it up and give your scratch box a try…
Still… nothing.
Later, your buddy blames it on the fact that you don't have any camouflage covering your face and says you got spotted.
Is he right?
Who knows, but one thing is for sure, you should be wearing a face mask or paint when turkey hunting.
In this post, we will list exactly which face masks we like the best. That way next time your lack of concealment can't be blamed.
Top Pick
After our research, we selected the Under Armour ColdGear face mask as our top pick. This face mask has everything you could ask for. It is comfortable, well-made, and will keep you warm. Any turkey hunter should be happy with its performance.
The 5 Top-Rated Face Masks for Turkey Hunting
Best Turkey Hunting Face Mask: Under Armour ColdGear
Our top pick for a turkey face mask is the Under Armour ColdGear.
This is an excellent face masks that has just about everything going for it.
It is made from 100% polyester and has a soft inner shell that is designed to retain your body heat and keep you warm.
The material also does a great job of wicking away moisture so it won't become damp and uncomfortable if you sweat.
Under Armour uses a 4 way stretch fabric that allows the fit to adapt well to your head shape.
The face mask also features Under Armour's Scent Control technology so you will stay undetectable.
Key Features:
100% Polyester
Moisture Wicking
Thermo Conductive Inner Shell for Warmth
Scent Control
Runner Up: Allen Company
Our first runner up is the Allen Company face mask. This is another great face mask for turkey hunting.
The material is comfortable and feels soft on your skin. Although it does not provide as much warmth as the Under Armour, it still helps and offers good protection against the wind.
The hood portion of the mask flips down which is nice when you start to get too hot and it has a mesh section around the mouth/nose to improve the breath-ability.
Allen Company uses the Mossy Oak Break-Up Country camo pattern which should work well for a wide variety of common terrains found turkey hunting.
Overall, you can't go wrong with this one.
Key Features:
Flip Down Hood
Mesh Section for Breathing
Mossy Oak Break-Up Country Camo
Best Hunting Face Mask for Glasses: DecoyPro
If you wear glasses and are looking for a hunting face mask that will fit comfortably, our pick is the DecoyPro face mask.
The DecoyPro uses a mesh fabric so it is very breathable and well suited for moderate temperatures.
The fit is very comfortable and the mesh design allows glasses to be worn without the glasses getting pressed into the sides of your head.
The opening is easy to pull down around your mouth or up over the top of your head if you want to eat or need to cool down.
This is another great option and at a good price point too.
Key Features:
Mesh Material
Good for Glasses
Flexible Face Opening
Runner Up: Ergodyne N-Ferno
Our next runner up is the Ergodyn N-Ferno. This face mask shares a lot in common with the Under Armour above.
The 100% polyester material feels very similar to the Under Armour and does a good job of keeping you warm.
There is a nice mesh pattern over the nose/mouth so you can breath without moisture build up.
You can wear it multiple ways like some of the other models when is convenient when you are eating, drinking, or calling.
Key Features:
100% Polyester
Mesh Patch for Breathing
Flexible Design
Runner Up: EAmber Ghillie 3D
Our final runner up is the EAmber Ghillie face mask. If you are looking for a 3D face mask, this is your best bet.
The face mask has a ton of "3D" features which can help you blend in and make you undetectable in certain terrain.
The material is a lightweight polyester which is very breathable and does a good job of wicking away moisture.
Our only complaint is that it does have a bit of an odor but it that should fade once it has been washed.
It also comes with a 1 month warranty, so if you are not happy with it you can return it.
Key Features:
3D Features
100% Polyester
1 Month Warranty
Who Should Buy a Hunting Face Mask
Anyone who is hunting game that have great eyesight (turkeys, ducks, etc.) should be using either a face mask or face paint. Turkeys have significantly better eyesight than humans and it is part of their defense against pray. Nearly all good turkey hunters use some form of face concealment.
If your goal is to harvest a wild turkey to eat, good camouflage is critical.
The argument as to whether using face paint or a face mask is better is up for debate. Both have pros and cons. Here is a list of the pros and cons of using a face mask for turkey hunting:
Pros:
Less messy than face paint, no cleanup
Only takes a second to put on
Some face paints are reflective and look less natural
No scent
Provides added warmth
Cons:
Harder to match exact terrain, especially if it varies where you hunt
Covers your ears, making it hard to hear
Important Features to Consider
Thickness/Warmth. Depending on the season and where you hunt, it might be pretty cold out when you are turkey hunting. If that is the case, the added warmth that comes along with wearing a face mask is a great benefit. Conversely, if you hunt mostly warmer weather, consider purchasing a lighter-weight model that breathes well.
Comfort. You will likely be wearing your face mask for hours at a time so you want to make sure it is comfortable. If it is too small or too tight in certain areas it will drive you crazy, possibly even give you a headache. This is also important if you wear glasses. Pick a face mask like our recommendation above that has adequate space for glasses so they aren't being smashed into the sides of your head.
Durability. We all know hunting can take its tole on gear. Stuff that doesn't last plain sucks. We believe all the picks above are good quality and that you should have no problem getting at least a few years of use out of them.
FAQs
Is it possible to pull down to eat/drink?
It is possible with all the models above, although some are easier than others. The easiest for pulling the face opening down is the DecoyPro.
Are they machine washable?
Yes, all the models we recommend above are machine washable.
Is it hard to breathe with a face mask on?
We would say it isn't hard to breathe with any of them on but some are a little easier than others. The best breathing face masks are the ones with the mesh pattern near the mouth/nose.