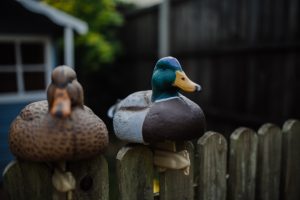 Unsure how to set up your duck decoys this season?
How far should the decoys be from your blind?
Well, the quick and simple answer is somewhere between 15-30 yards.
Preparing your decoy spread can be fun and straightforward as long as you keep a few basics in mind.
You want your decoy spread to appear natural. You want the space between decoys to match how close actual ducks sit. And you want this pattern close enough to your blind so that you will be able to get off clean shots that are within range.
Why Decoy Spacing Matters
Ducks have excellent eyesight, much better than humans. They have evolved to sense any discrepancy from what appears natural as a potential threat.
The distance from your decoys to your blind is critical. If you set your decoys too far from your blind you may have luck getting birds to fly in but good luck hitting them…
Most shots at ducks should be taken within 40 yards. This allows your pattern to spread enough to account for your aim being off but still have enough pellets hit the duck that it results in a clean kill.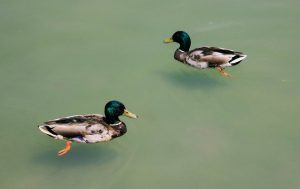 When placing your decoys, you want to have them spread apart enough that ducks feel welcomed to come down and land. If you space your decoys too close together, not only will they not look natural but ducks will not feel like there is anywhere they can come join.
The next section will give you some basic tips on how to place your decoys now that you know why they should be within 15-30 yards of your blind.
Basic Duck Decoy Spreads to Try
There are tons of spreads that hunters use to try to entice ducks to flock their way.
One of the most basic spreads to is set the decoys in groups that run parallel to each other with your blind sitting in between and located at one end.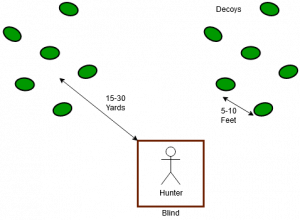 This basic pattern leaves a large vacant area between the two groups that ducks will see and be open to landing in.
In addition to your spread appearing natural, you need to make sure that the sight of your blind doesn't spook ducks that are otherwise interested in coming in to land.
The best way to do so is to make your blind look like the surrounding habitat. The most popular way hunters do this is with the use of blind grass to camoflauge their blind. Checkout our article on the best blind grass for more tips on setting up your blind.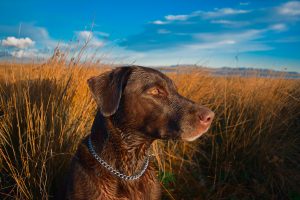 Final Thoughts
Hopefully now you have a better idea of how to set your decoys for the coming duck season. Pick a spread to try and set the individual decoys between 5 and 10 feet apart.
Make sure the closest decoys in the spreads are around 15-30 yards from your blind.
For more information on various decoy spreads, checkout this article that lists 5 simple decoy spreads by Ducks Unlimited.
If you want to make the process of setting your decoys a little less miserable, checkout our recommendations on the best decoy gloves.