Going hunting is not just about having the right skills but also about knowing how to stay hidden from the animals in the wild.
Learning "how to wash deer hunting clothes" is a skill to help you stay unnoticed. It's not just about cleaning; it's a special method that helps you hide your human smell and increases your chances of a successful hunt.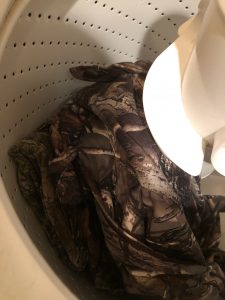 In this article, we're going to talk about why washing your hunting clothes the right way is super important. We will explore the right and wrong ways to do it and share some secret tips from experienced hunters.
We will guide you through the steps of washing, drying, and keeping your hunting clothes safe so that on your next hunting trip, you can move quietly and unseen.
Basics of Washing Hunting Clothes
Why Washing Hunting Gear is Crucial
Imagine you're all set for a thrilling day in the woods, your gear is packed, and you're ready to blend into the wild, unseen and unheard. But wait! The animals seem to notice something. They're alert, noses in the air, sniffing an unusual visitor – you!
This is where understanding "why washing hunting clothes is crucial" comes into play.
Animals, especially deer, have an incredible sense of smell. They can detect scents that are miles away and many days old.
Your regular clothes carry various smells – from the food you cook, the places you visit, to your body odor.
Hunting season or not, these are like invisible alarms to the animals, warning them of potential danger.
Washing your hunting clothes the right way ensures that these 'scent alarms' are turned off. It's not just about looking clean but being invisible in the scent world of the wild.
Properly washed hunting clothes help you sneak through the woods like a gentle shadow, ensuring that your adventures are successful and exciting.
So, let's dive into the fascinating world of keeping our hunting clothes not just visibly clean but also 'scent clean' to the keen noses in the wilderness, ensuring our hunting trips are as thrilling as we dream them to be!
Choosing the Right Detergent
Picture this: you're in a store, staring at a towering shelf filled with colorful bottles and boxes of detergent, each promising to make your clothes sparkling clean and smelling like a fresh meadow or a spring breeze.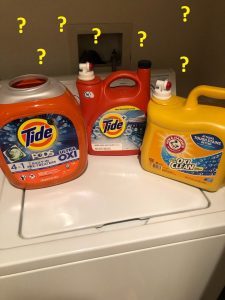 But hold on a minute!
When it comes to figuring out how to wash hunting clothes, that lovely "spring breeze" might just be the thing that gives you away in the silent, watchful world of the wilderness.
Choosing the right detergent isn't just about what gets the dirt out best, but what keeps you invisible in the nose of a deer or any other keen-smelling creature out there.
This section will guide you through the confusing world of scent-free laundry detergent, helping you navigate through the choices and select the one that will become your silent partner in all your hunting adventures.
Navigating through the myriad of options, let's spotlight some recommendations for hunting-specific detergents that have garnered accolades from the hunting community.
These laundry detergents are not just champions in eradicating dirt and stains but also excel in maintaining your invisibility cloak in the wild by being genuinely scent-free and devoid of UV brighteners.
Dead Down Wind Laundry Detergent
Sale
Dead Down Wind Laundry Detergent is a favorite among hunters.
This detergent is renowned for its enzyme technology, which not only targets odors but also obliterates them, ensuring that your hunting clothes are scent-free. Plus, it's void of those sneaky UV brighteners, making sure you stay under the radar in the dim forest light.
Scent Killer Gold Laundry Detergent
Scent Killer Gold Laundry Detergent takes a vow of silence (scent-wise, of course!) and helps your hunting clothes maintain their stealth mode by eliminating odors and preventing new ones from forming.
It's a reliable choice for those who want to ensure their scent doesn't precede their arrival in the wild.
Hunter's Specialties Scent-A-Way MAX
Sale
The Hunter's Specialties detergent doesn't just stop at providing a thorough clean.
It goes the extra mile by offering color-safe, fabric-safe, and even HE compatible options, ensuring that your hunting gear is not only scent-free but also vibrantly maintained.
Choosing a hunting-specific detergent is akin to selecting a trustworthy companion for your hunting adventures.
It's about ensuring that the detergent you choose not only cleanses but also safeguards your stealth in the wild.
Types of Stains and How to Remove Them
Ah, stains! Those pesky little reminders of adventures, mishaps, and sometimes, the triumphant stories from our hunting expeditions.
As we dive into the world of stain removal, especially when pondering over how to wash deer hunting clothes, we find ourselves face-to-face with some common culprits: blood, rust, oil/grease, and grass.
Each stain, a unique challenge, demands a special approach to ensure your hunting attire remains in top-notch condition.
Blood Stains
A common souvenir from a successful hunt, but it can be a stubborn stain to tackle! Fear not, for the solution is in your kitchen – salt! Simply soak the stained area in cold saltwater for 1-2 hours, then rinse and wash with your trusty scent-free detergent. Voila! The stain should be history.
Rust Stains
Rust can sneak onto your clothes from old gear or unexpected sources in the wild. Lemon to the rescue! Apply lemon juice to the stain, sprinkle a bit of salt, and gently rub. Allow it to sun-dry and then wash as usual. The rust should fade away, leaving your clothes spotless.
Oil/Grease Stains
A bit of dish soap can be your knight in shining armor here. Apply a small amount directly to the stain, gently rub, and let it sit for a few minutes before washing. The soap will break down the oil without compromising the fabric.
Grass Stains
Ah, the classic! Believe it or not, vinegar is a fantastic remedy. Mix vinegar and water in equal parts, apply to the stain, and let it sit for a few minutes. Wash it off and witness the grassy evidence disappear.
When dealing with stains, it's imperative to remember that being gentle is key. Harsh scrubbing can damage the fabric and fade the colors, reducing the effectiveness of your camo.
Also, always test a small, hidden area of the fabric first to ensure the method is safe for your clothes.
Advanced Washing Tips
Now that we've conquered the mighty world of stains, let's delve into some advanced washing tips that will elevate our game in maintaining our hunting attire.
Buckle up, as we explore the secrets of ensuring our washing machine is scent-free and the magic of baking soda in neutralizing odors!
Ensuring the Washing Machine is Scent-Free
Imagine washing your hunting clothes only to have them come out smelling like last week's laundry detergent!
To avoid this, run an empty load with hot water and a cup of vinegar before washing your hunting clothes.
This simple step ensures that your machine is free from lingering scents and residues, providing a clean slate for your hunting gear.
Using Baking Soda for Neutralizing Odors
Baking soda isn't just for baking cookies! This humble kitchen ingredient is a wizard in making sure your hunting clothes are as scent-free as possible.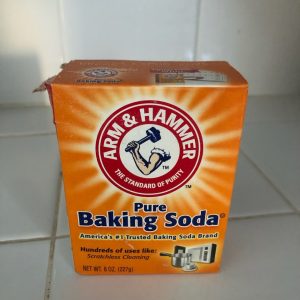 Add a cup of baking soda to your wash to neutralize any odors that might be clinging to your clothes.
Baking soda works silently in the background during your wash, absorbing all those unwanted smells, ensuring your hunting clothes come out fresh and neutral.
It's these little extra steps that can make a big difference in ensuring that we remain undetected during our hunting adventures.
Drying and Storing Hunting Clothes
After our hunting clothes have swum through a thorough wash, it's time to talk about drying them.
Ensuring they are dried without absorbing new scents and stored while maintaining that neutrality is crucial.
Drying: Using Sunlight vs. Dryers
Sunlight, nature's dryer, is a fantastic option. Laying your clothes out in the sun not only dries them but also uses the sun's natural UV rays to help eliminate any stubborn scents.
However, be mindful of potential fading with excessive sun exposure, especially with your camo gear.
On the other hand, using a dryer is quick and convenient, especially when the weather doesn't cooperate.
Use scent-free dryer sheets or, better yet, skip them to ensure no artificial scents latch onto your clothes.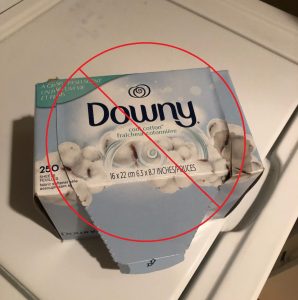 Remember, the goal is to be as invisible, scent-wise, in the wild as possible!
Storing: Keeping Clothes Scent-Free Post-Wash
Now, with our clothes clean and dry, let's dive into storing them. It's not just about tossing them into a closet!
Using a dedicated, sealed container or a scent-free storage bag for your hunting clothes will shield them from everyday household smells, keeping them fresh and ready for your next adventure.
Consider adding a few dry earth scent wafers in the storage container to mimic the natural smells of the outdoors, further masking any potential human scent.
In-Field Maintenance of Hunting Clothing
Even in the midst of a hunting trip, our clothes might need a little TLC to keep us hidden from the keen noses of the wild.
Let's chat about some quick and easy in-field maintenance tips to ensure your hunting clothes stay in tip-top shape even while you're out in the wilderness!
Quick Cleaning: Accidents happen! If you find a new stain on your gear, a little water (from a stream or your bottle) can be a quick fix. Gently dabbing (not rubbing!) the stain with a wet cloth can minimize it until you can give it a proper wash.
Scent Masking: Nature is filled with wonderful, natural scents that can help mask our human odor. Grab some local foliage, like pine needles or leaves, and rub them on your clothes. This helps you blend into the natural scents of the environment, making you less detectable to animals.
Remember, maintaining your hunting clothes while you're out on an adventure is just as crucial as pre-trip washing and storing.
These quick fixes ensure that you stay invisible throughout your journey, maximizing your chances of a successful and exciting hunting trip.
Wrapping Up
And so, our journey through the meticulous world of maintaining hunting clothes draws to a close, but the adventures that await us in the wild are endless!
From understanding the vital role of washing and choosing the right detergent, to mastering the art of stain removal, and ensuring our clothes are dried, stored, and maintained to perfection, every step is a crucial companion to our hunting adventures.
We've navigated through the secrets of ensuring our clothes are not just clean, but also scent-free and invisible to the keen senses of our wild friends.
We've learned that every wash, dry, and storage method is a step towards ensuring our presence in the wild is as subtle and unnoticeable as a gentle breeze.
As we step into the wild, let's carry forward these nuggets of wisdom, ensuring our hunting clothes are always in their prime, ready to assist us in every quiet step and patient wait.
May our adventures be thrilling, our presence unnoticed, and every hunt be as exciting as the stories we'll tell.
FAQs
Should New Hunting Clothes Be Washed?
Absolutely, yes! New hunting clothes might look clean, but they can carry scents from the manufacturing process or the store they were in.
Giving them a good wash with scent-free detergent ensures that they're ready to help you blend seamlessly into the wild on your very first adventure!
How Often Should Hunting Clothes Be Washed?
The frequency of washing your hunting clothes largely depends on your adventures. If you've had a particularly messy trip, washing immediately is wise.
However, if you've managed to stay relatively clean and scent-free, a few wears between washes should be fine. Always prioritize scent control to decide when it's time to wash!
Can Regular Detergent Be Used for Washing Hunting Clothes?
While regular detergent will clean your clothes, it's not the best choice for hunters.
Most regular detergents contain UV brighteners and perfumes, which can make you more detectable in the wild.
Opting for a hunting-specific, scent-free soap is your best bet to stay invisible to your prey.
How to Remove Stubborn Stains from Hunting Clothes?
Stubborn stains, meet your match! For blood stains, a cold saltwater soak should be your first step.
Rust can be tackled with lemon juice and a bit of sunlight, while dish soap can help break down tricky oil or grease stains.
For grass, a mixture of vinegar and water will do the trick.
Remember, gentle dabbing and avoiding harsh scrubbing will keep your clothes in top condition!