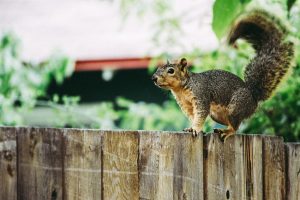 If you are wondering what you can hunt with a .22,
one of the most popular rounds on the planet…
You will be excited to know you have a bundle of options.
Right off the top, a .22 is a devastating, lethal round when used to hunt rabbits, squirrels, foxes, prairie dogs, ground hogs, and stationary birds like quail and pigeon.
It is also wicked-effective when used on larger birds like pheasant and grouse under the right circumstances.
Hunting With a .22
A .22 will inflict a clean kill on any of the animals mentioned above. It is a great caliber for small game because it results in a quick, effective kill while not obliterating the animal.
The effective range of a .22 is 150 yards although that is really pushing it for hunting. If you are hunting with a .22, you should keep the target within 50-100 yards.
This is because the energy beyond 100 yards drops significantly compared to closer targets.
A typical .22 bull weighs about 40 grains. Velocities range between 1000 ft/s up to 1400 ft/s.
The energy when it leaves the barrel is around 150 ft-lbs and by the time the bullet has traveled 150 yards the energy has dropped to 65 ft-lbs.
There are also subsonic rounds which are bullets with muzzle velocities under 1100 ft/s. These are great for shooting pests when close to neighbors etc. because they are quieter. Just keep in mind the effective range of these subsonic rounds is even less than normal .22 rounds.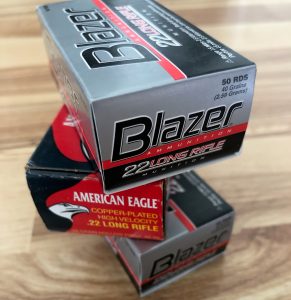 There are a few animals you should not hunt with a .22.
A .22 is one of the worst calibers for hunting deer.
We detail why in our articles Can You Hunt Deer with a .22? and Can You Hunt Turkeys with a .22?.
The general idea is that due to the low energy carried by the .22 bullet, it is much less likely to produce a clean, humane kill.
There are much better options for larger game. Checkout our article on Best Hunting Rifles for Beginners for some excellent suggestions.
Popular .22 Guns
The two most popular .22 caliber guns are Ruger 10/22 and the Ruger MK series. Both of these are well made, high quality firearms that can be purchased at a fair price.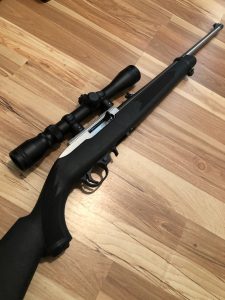 A 10/22 is many hunters first gun. My grandfather bought me mine when I was young. This is an exciting time for a young hunter.
It is perfect for learning how to safely handle and behave around a firearm.
If you are teaching a young hunter or someone new to firearms, one of the first things they should do is go through a hunter safety course.
Virtually every hunter ought to own a 10/22.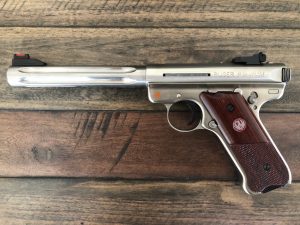 Benefits of Owning a .22
The advantages to owning a .22 are numerous. Here are a few to convince you a .22 is worth having.
Ammo
One of benefits of the .22 caliber is the vast variety of ammo available. Every variation you can think of is out there.
And the great thing about the ammo, it's cheap. You can get a box of 325 rounds for less than $30.
There have been a few periods of hysteric buying which led to ammo shortages but most of the time it is readily available.
Low Recoil
Shooting a high power rifle for more than a few shots can be bone-crushing. The great thing about the .22 is that it produces virtually zero recoil. You can shoot it all day long without getting beat up or feeling fatigued.
Noise
Compared to all larger calibers, a .22 is quiet. Larger rounds are loud, sometimes even for those with earplugs in. The .22 is quiet enough that the nearest neighbor won't be complaining.
Even though it is quiet, you should still always wear ear protection.
Accurate
Within 100 yards a .22 can be so accurate it is astonishing. A good rifle is capable of shooting groups the size of a quarter at 100 yards or less.
Great for Training and Plinking
A .22 is a great choice to get practice in before next deer season. Hunting small game like squirrels and rabbits is a fun way to prepare for the adventures of hunting large game.
You will probably want to put a scope on your .22 if you want to emulate a larger rifle. Something like the Vortex Crossfire II below is a fantastic scope at a reasonable price.
Vortex Optics Crossfire II Dead Hold BDC Reticle Riflescope, 3-9x40, Black (CF2-31007)
The 3-9x40 Crossfire II riflescope is one of many configurations in the Crossfire II line. The Dead-Hold BDC reticle is good for hunting/shooting at varying ranges where estimating holdover is a concern.
With long eye relief and an ultra-forgiving eye box, you'll be able to quickly get a sight picture and acquire your target. The fast focus eyepiece allows quick and easy reticle focusing.
Anti-reflective, fully multi-coated lenses provide bright and clear views for the user.
History of the .22 Caliber
The .22 has a long history and is one of the most classic calibers in the firearm world.
The first .22 dates all the back to around 1884 where it was was introduced by Union Metallic Cartridge Company.
Because of many of the advantages above, it rapidly grew in popularity and rose to it's legendary status it now holds.
It continues to be one of the highest selling calibers in the world.
An improvements on the round continue.
The .17 HMR (Hornady Magnum Rimfire) evolved from necking down the .22 Magnum case to create a smaller caliber with higher velocity and improved ballistics.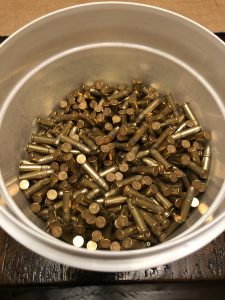 Related Questions
Can a .22 caliber be used for self defense?
You may be wondering, how is a .22 for home/self defense? Well, it is not ideal. Because the small bullet is combined with relatively low muzzle velocity, the bullet doesn't carry much energy.
With that said, a .22 is capable of inflicting serious and lethal damage to humans if the shot is placed well.
In a defense situation, you don't want to have to rely on a well placed shot for your weapon to be effective.
A much better home defense gun is a shotgun. A shotgun obliterates anything in it's path and doesn't required pin-point accuracy from the shooter.
Additionally, the pellets do not travel nearly as far so you don't have to worry as much about the damage it could cause behind your target.
For those of you interested in a good home defense gun, checkout something like the tactical Remington 870.