When most people say they ate venison, they typically mean a large muscle group like the tenderloins, backstraps, or hindquarters.
But venison can actually refer to any type of deer meat, including organs.
The most common deer organs to eat are the heart, liver and kidney. But those aren't the only edible deer organs.
In the sections below you can learn about which deer organs you can eat and how they are prepared.
The best resource I know of on cooking venison is Buck, Buck, Moose and it has many recipes for cooking organs.
Before you jump in and cook up some organs, please make sure you read the section below on why you might want to reconsider.
Most Popular Deer Organs to Eat
Historically, all of the organs below have been consumed. This was during a time when people tried to use as much of the animal as possible for survival.
In fact, the phase "eat humble pie" actually originates from a pie filled with deer offal.
Nowadays we don't have to worry about that as much but many hunters still like to consume them.
Heart
The heart of a deer is the most common organ eaten. Many claim the heart is delicious when prepared well.
The key to cooking deer heart is to not overcook it. If it is overcooked, it turns gray and gets tough.
Here is a video by Steve Rinella on how to clean a deer heart.
Liver
Deer liver is a lot like beef liver, people either love it or they hate it.
The most common way to serve liver is with onions.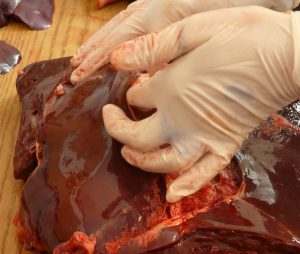 From what I am told, deer liver has an even stronger flavor than beef liver.
So if you are a big liver fan, you will probably enjoy it.
If liver isn't really your thing, then it is unlikely you will enjoy deer liver.
Is it healthy to eat deer liver?
As mentioned below, while the liver is one of the most common deer organs to eat, you should do so with caution.
Liver itself is extremely healthy and full of important vitamins and nutrients. But due to the possibility of contaminants, it may not be worth the risk.
Kidneys
While popular in Europe, kidney is not a popular dish in the United States.
Due to their unique taste, even hunters that like deer organs usually stick to heart or liver.
I have heard them described as gamey. This may have to do with the fact that they filter urine.
If you do want to try them, make sure to remove the layer of fat they are encased in.
Tongue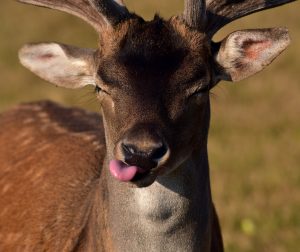 Many of you have probably seen Steve Rinella eating deer tongue out in the field after harvesting a deer, so it is certainly edible.
He prepares it by boiling it, cutting the skin off, and adding some salt.
Stomach
Deer stomach (tripe) is in fact edible although not very popular to eat.
Extra care should be taken when cleaning and preparing tripe due to the bacteria contained in the stomach for digestion.
I have read that some hunters wash it with peroxide before use.
Cheek Meat
The cheek meat of a deer is not that popular but I have been told that it makes great chili.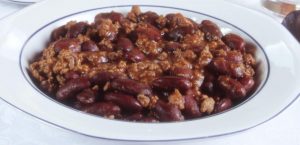 I have personally never tried it.
Fat/Tallow
Deer fat (tallow) is not normally eaten directly but I have been told it makes the best apple pie crust.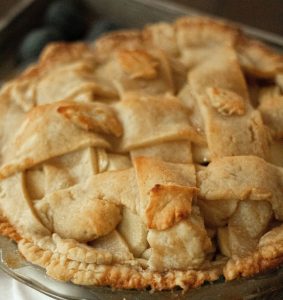 Another great use for it is to make boot oil.
This way you can feel good about using more of the deer without having to eat it.
Rocky Mountain Oysters
Deer rocky mountain oysters certainly aren't as popular as the organs above, but there are hunters out there that eat them.
They are normally breaded and deep fried.
Funny enough, many compare the taste of beef rocky mountain oysters to venison. I have not tried them but if you like them, more power to you.
Why You Should Eat Organs with Caution
According to Michigan department of fish and game, you should not eat certain wild game organs.
The main reason is because of the chemicals and metals that make their way into the environment from manufacturing industries in Michigan.
Part of this is likely specific to Michigan due to the industries located their.
If you are going to go ahead at try eating deer organs, here are some basic steps you should follow:
Clean them immediately and place them in a sealed bag.
Get them cold in your hunting cooler as soon as possible.
Wash them with water once home.
Use a good vacuum sealer to save for later use.
Can you eat deer brain?
So, what about the brain?
While it was historically common, you should not eat deer brain.
Chronic wasting disease is a wide spread prior disease affecting deer that is found in the brain.
While it has not yet transferred to humans, better safe than sorry.
The brain is historically used to tan the hide but this isn't necessary. It is best to steer clear of the brain under all circumstances.
FAQs
What is the best part of deer to eat?
Venison is a bit more gamey than other wild game meat.
My personal favorite is the backstrap. I find it to be the most tender and flavorful part of the deer.
I like to grill it with salt and pepper, cooking it to medium-rare.
When cooked well, it is absolutely delicious.
Are deer intestines edible?
While the answer is technically less, unless you are stranded out in the wild and starving, I would pass.
There are going to be all sorts of digestive bacteria in the intestines to help deer breakdown their food and it is not something to mess around with.
What parts of a deer can you not eat?
As I have repeated multiple times, always approach eating any part of a deer with caution. Wild game can become contaminated or spoil and can make you very sick.
With that said, you should not eat the brain, intestines, or any other parts of the digestive track.