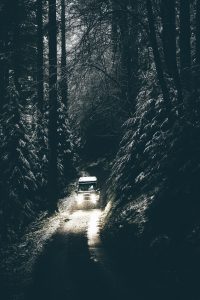 My Fellow Hunter,
Let me ask you,
You're heading on your first hunt of the year…
What are you driving?
It is a question worth pondering. Even if you already have a vehicle.
If you like to hunt, how well suited is it for how you hunt?
Choosing the right hunting vehicle can be tough. It depends on a lot of factors and your specific circumstances.
This article highlights everything you could possibly want to consider before making your decision so you end up with the vehicle that is best for you.
The 6 Best Hunting Vehicles
Pickup Truck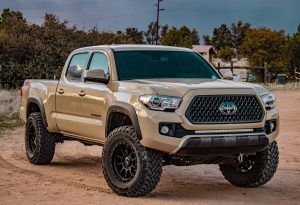 A good pickup truck is one of the most versatile and useful things to own if you are someone who likes to spend a lot of time outdoors doing activities like hunting and fishing.
It is the number one most commonly used hunting vehicle. If you have spend anytime hunting deer on public land we would be the majority of the vehicles you came across were pickups.
You can't go wrong with a pickup. They are popular for a reason. As you can see from the list below, there are tons of advantages to owning a pickup. Checkout our recommendations below if you are leaning towards a truck.
Pros:
Everyday driver
Truck bed is perfect for hauling cargo
You get the amenities of a road vehicle like radio, heater, A/C
You can sleep in either the cab or bed as opposed to having to pitch a tent
Great for towing trailers
Another nice aspect about hunting with a pickup is that any game you kill doesn't have to ride inside the car with you unlike one of the options below.
Cons:
Pricey: A good pickup is going to set you back some $
They can be hard to find, especially if you are looking for a good used pickup
Harder to navigate tighter terrain/trails
Anyone who has ever owned a pickup will know, you will get asked to help people move. It's not a matter of if but when. There is nothing wrong with helping your friends move but it is something you should be prepared for.
Models to Consider:
Toyota Tacoma
The Toyota Tacoma is the most popular midsize truck in America. The Tacoma is very well made and reliable with some owners driving theirs well over 300,000 miles. They hold their value as well as any other car on earth. You may have a tough time finding a good used one because owners often end up liking them so much that they own them for a long time.
Ford F-150
The Ford F-150 has been the best-selling pickup in America for over 40 years.When it comes to versatility, the F-150 is on top for a reason. This truck can do a little bit of everything. It can haul cargo in the bed, tow a trailer, gets decent mileage, performs well off-road, and they are everywhere.
Jeep Wranger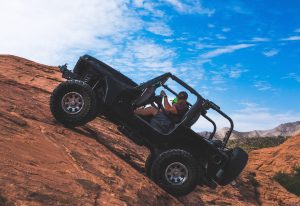 Jeeps are synonymous with off-roading and have been used by hunters since their birth in the 1940s. They are a ton of fun to drive and extremely capable once they are off the pavement.
The ability to remove the top can be nice if you are hunting during the early fall when it is still warm out. They are perfect for keeping at your cabin your hunting club. Day trip hunts are where the Jeep shines.
They are limited in a few areas compared to a few of the other choices. First off, there isn't a very convenient place to put a large animal if you are successful. An aftermarket rack can alleviate this issue. Jeeps also don't have the same space for cargo as something like a pickup or a 4 Runner.
Pros:
Great for off-roading
Can take the top off
They are a blast to drive!
Cons:
Less room for cargo/game
Less/tighter seating
Models to Consider:
CJ (1961-1986)
YJ (1987-1995)
TJ (1996-2006)
JK (2007-2017)
JL (2018-Present)
4 Runner/Cherokee
Toyota 4 Runners and Jeep Cherokees are another popular choice among hunters. They are both very capable off-road vehicles and have a few benefits over a pickup truck or a Jeep.
One of the nicest features is that if you lay the back seats down, you have a nice spacious area to setup a bed. You don't have to worry about rain, or waking up with a layer of dew on you, and you will be warmer.
Both the Cherokee and 4 Runner have full size seats for 4-5 people as well, which is certainly an advantage over the Jeep and could be over the pickup as well depending on the model.
They also have a good amount of space for cargo. In addition to the inside, it is possible to add a rack to the top of the vehicle for even more storage.
The one downside is that if you are successful and kill a big animal, it will likely have to ride in the vehicle with you in some capacity. You can always bone out the animal and throw it in you cooler if this is a big issue or if you live far away.
Pros:
Lots of room for cargo
Spacious seating
You can put rear seats down and sleep inside
Cons:
Anything you kill rides inside the car with you
Not as much cargo room as a pickup
Models to Consider:
4×4 Quad ATV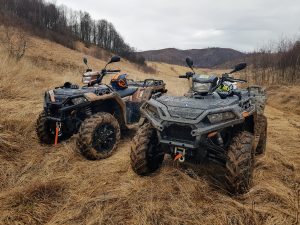 Until side by sides (sxs) came along, 4×4 ATVs were the go-to hunting vehicle for many hunters on both private and public land. Even still, they seem to be as popular as ever and the market to buy a used one is as competitive as ever.
If setup properly, a quad is an extremely useful hunting vehicle. As long as you have a good rack to hold your weapon, and a place to haul any game that you kill, you should be good to go.
ATVs are very capable when it comes to traversing rough terrain. They are able to go places the road vehicles above cannot. And even if something like a Jeep could make it, the journey on an ATV will be much more enjoyable.
Anyone who hunts on a ranch would greatly benefit from having a quad.
Pros:
Can travel rough terrain easier than road vehicles
Plenty of cargo racks for gear, guns, and game
Minimal maintenance required
Cons:
Need a way to haul it, either truck or trailer
Models to Consider:
Side by Side UTV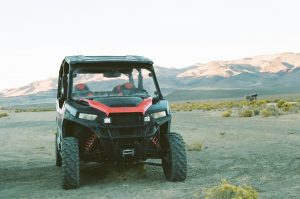 Over the last 10 years or so, side by sides (SXS) have exploded in popularity among hunters. If you have ever had the chance to ride in one, you probably realize why.
In addition to being tons of fun to drive, these things seem to be able to handle any terrain you throw at it.
Depending on the model, there is usually room for your cargo as well as to haul any game you kill.
There are tons of accessories like lights, racks, windshields etc. available to customize them to your preference.
The biggest downside is that you need a trailer to haul it around. Other than that, they are amazing machines and if you are on the fence about buying one I don't think you will regret it.
Pros:
Handles tough terrain
Fun to drive
Customize to your liking
Cons:
Need a trailer to haul it around
Models to Consider:
Mountain Bike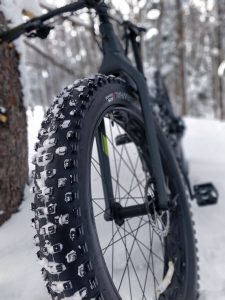 While not nearly as popular as any of the vehicles above, a mountain bike can still have it's place hunting. Many hunting areas are closed off to motorized vehicles but open to mountain bikes and hunters on foot. A mountain bike can allow you to travel into these areas much further than you would be able to on foot in the same amount of time.
This can grant you access to much less pressured hunting areas where you are more likely to have success.
You can modify most decent mountain bikes by adding a rack as well as a few other accessories.
The main downside is that if you are successful, you need to find a way to haul your game out. One solution some hunters have came up with is to modify a game cart and tow it behind their bike.
Pros:
Access remote hunting areas
You get exercise in the process
Cons:
You have to haul out anything you kill
Models to Consider:
What to Consider When Choosing a Hunting Vehicle
What type of terrain do you hunt?
Are you going to be traveling well maintained roads on your way to your hunt or do you expect the trails to get a bit gnarly? If the trails get narrow and nasty enough, a quad or UTV might be your only option. If you are mostly going to be staying on fire roads then any of the highway vehicles are reasonable choices.
Are you going to sleep in it?
This is a big one. If you want the ability to sleep in your hunting vehicle, you really only have two options: a pickup or a 4 Runner. Both of these can be made to be quite comfortable for sleeping. The best option will likely be to put a camper on your pickup and throw in an air mattress or sleeping pad.
How are you going to haul game?
If you are traveling any reasonable distance you want to give some thought to how you are going to haul any game you kill? Are you going to bone out the animal and throw it in a good cooler? Or are you going to bag the animal whole and take care of processing it once you get home? If you plan to haul the animal whole, a Jeep is going to be less convenient that a pickup or Cherokee.
What other gear will you be hauling?
If you plan on bringing a lot of gear with you, you will need a vehicle that can haul it all. While it is possible to follow our checklist and pack pretty light, even then you may find yourself needing a fair amount of room. Again, this is where the pickup really shines as a hunting vehicle. They are just so versatile and work well for so many reasons.