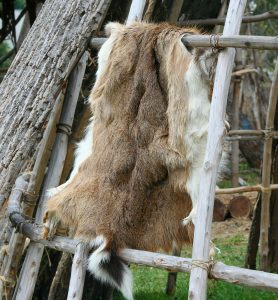 Looking for a convenient way to skin a deer after your hunt?
A good hoist can make all the difference.
You already worked hard during your hunt, no need to work harder than necessary skinning and cleaning your game after your success.
We have reviewed every hoist on the market in order to find the best from the rest. We highlight the best all around hoist, hitch hoist, portable hoist, and more.
Top Pick
After a lot of research, we picked the Guide Gear Tree Mounted Deer Hoist as our top pick. It is a sturdy, well made hoist capable of lifting deer. It is easy to setup as well as use.
The 5 Top-Rated Deer Hoists
Best Deer Hoist: Guide Gear Tree Mounted Deer Hoist
Our pick for the best all around deer hoist is the Guide Gear Tree Mounted Hoist. This thing can be used anywhere you can find a sturdy enough tree.
The hoist is rated for 300 lbs. and includes a hand winch. The cable is more than long enough even if you want to mount it a bit higher on the tree.
It mounts to the tree using a chain, ratchet strap, and serrated braces that bite into the tree for more stability.
It also only weights 32 lbs. Overall we think this is your best choice as long as you have a tree capable of mounting to.
Key Features:
Capacity: 300 lbs.
Weight: 32 lbs.
Winch Included
Best Portable Deer Hoist: HME Game Hoist Tri-Pod
If you are looking for a hoist you can move around with you, the HME Tri-Pod Hoist is a great choice.
Some of us are hunting in different areas all the time and don't have the convenience of a permanent setup. This model is perfect for throwing in the back of your truck and taking it with you wherever you hunt.
It can lift up to 300lbs with a hand cranked winch, more than enough for deer.
It is easy to assemble and still lightweight enough that it can be moved around without much hassle.
All in all, it is a great choice for hunters on the go.
Key Features:
Capacity: 300 lbs.
Lift Height: 98″
Weight: 51 lbs.
Winch Included
Best Deer Hanging System: Hunter Specialties Hoist System
If you are simply looking for a gambrel and pulley system to use in an existing location, Hunter Specialties Hoist System is our pick.
This kit includes pulleys, rope, and a gambrel.
They offer this kit in various load ratings (1500 and 600 lbs capacity) . The heavier the game you want to be able to lift, the more pulleys you will want.
The advantage of more pulleys is that the more you have, the easier it is to lift a given load.
For example, if you have a 4:1 lift ratio and want to lift 400 lbs then you will need to pull on the rope with 100 lbs.
This is a well constructed kit that includes everything you need to hang a deer if you have somewhere to attach the upper pulley.
Key Features:
Capacity: Up to 1500 lbs.
Up to 6:1 Lift Ratio
55′ Rope
Gambrel Included
Best Hitch Hoist: Kill Shot Game Cart
For those of you who are looking for a hoist that connects to your hitch, the Kill Shot is our favorite option.
This model features a 360 degree swiveling system that can be used in different orientations. This can also make it handy for loading game into your car or truck.
It is rated for up to 500 lbs and the lift height is adjustable from 81″ to 95.75″.
The entire frame is powder coated steel making it strong and corrosion resistant.
Another nice feature is the 25.5″ clearance that will allow tailgates on most trucks to be opened.
Overall, we think you will be happy with this hoist if you are looking for one that connects to your hitch.
Key Features:
Capacity: 500 lbs.
4 position Swivel
Height 81″ to 95.75″
24″ Gambrel Included
Best Deer Gambrel: Hunter Specialties Gambrel
If all you need is a gambrel, this one from Hunter Specialties is a good choice.
It is made from steel and rated to hold up to 600 lbs.
It is 20″ wide so will work well for deer and has excellent reviews.
These are heavy duty and well made, you will be happy with your purchase.
Key Features:
Capacity: 600 lbs.
20″ Wide
Steel
Who Should Buy a Deer Hoist
Anyone hunting deer or other large mammals should consider purchasing some sort of hoist system to help them clean and skin the deer. Surely it is possible to do without but it will be significantly more difficult to skin and keep the meat clean.
What type of system you go with is up to you and depends on your hunting situation. For some, a portable hoist will work great while others will benefit from a more stationary setup.
Important Features to Consider
Capacity. You should consider the size of the deer and other animals you hunt and will want to hoist. You do not want a system that is undersized. Having an animal fall while skinning with a sharp knife is a recipe for disaster.
Lift Height. Whether you are building your own setup or purchasing a full hoist, make sure it is tall enough for the area and heights you want to be working at.
Weight. Weight is most important if you are considering a portable hoist. If you are going to be moving it around you will probably prefer it isn't overly heavy.
Quality. Many manufacturers have outsourced their production to different locations in order to cut costs. It is important to keep an eye out for a design that has had recent quality issues as this might be a sign of a products quality degrading.
FAQs
What other gear do I need for processing meat?
If you plan on processing and storing your meat in the freezer, you will find having a good vacuum sealer very beneficial. It will pay for itself in not time.
Beside that, a good knife is essential. Checkout some of our picks for the best bone saws here.
Other Hoists We Reviewed
Guide Gear Portable Tripod Game Hanger
The Gear Guide Tripod Hoist was not our favorite. A number of owners comment that the assembly of this unit is not very easy. Some have also noted that the winch is poor quality and are prone to breaking. Because of this, we would recommend going with one of the models above.