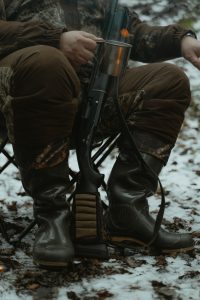 Today's article is all about selecting the best turkey hunting boots.
Mark is a good friend of mine who likes to go hunting on occasion.
One day, when we set out on spring turkey hunt,
Mark showed up wearing his work boots.
I knew he would wind up regretting that decision.
Fast forward to the end of the day and sure enough,
Not only were his feet sore…
they were wet.
Today's post is to help you find the right pair of boots for your next turkey hunt so you don't wind up like my friend Mark.
Top Pick
After a lot of research, the top pick for the best turkey hunting boots goes to the LaCrosse AeroHeads. These boots are the most versatile and well liked pair I reviewed.
LaCrosse is known for making quality footwear and these boots are no exception.
To understand why I picked these (and when you might want to opt for other boots), I have written detailed reviews below.
The 5 Top-Rated Boots for Turkey Hunting
Best Turkey Hunting Boots: LaCrosse AeroHead
If you are looking for the best turkey hunting boots, the LaCrosse AeroHeads are an awesome choice.
LaCrosse has been in business since 1897, emphasizing "quality goods, workmanship and honest values."
These boots are designed with the turkey hunter in mind.
If you're hunting in wet conditions, and want a lightweight yet durable pair of boots that will keep you dry, the AeroHeads won't let you down.
Instead of using rubber, LaCrosse uses polyurethane to keep the boots lightweight and make their exterior rugged.
Inside of the polyurethane shell is a layer of neoprene designed to keep you warm while also fitting like a glove.
LaCrosse makes these boots in 3.5mm and 7.0mm neoprene so you can select the amount of insulation depending on how cold it is where you hunt.
They also designed in a molded kick-off heel plate that makes taking these off much easier than other similar boots on the market.
All in all, these are great boots that will serve the needs of most turkey hunters well.
Key Features:
Waterproof
3.5 or 7.0 mm Thick Neoprene
Polyurethane Overmold
Kick-off Heal
Weight: 5 lbs. Per Pair
Runner Up: Chippewa 17″ Snake Boot
For the first runner up I picked the Chippewa 17″ Snake Boots.
Chippewa is another manufacturer that has been making boots for a long time, since 1901.
These are high quality hunting boots designed for turkey hunting and to protect you from snake bites.
The boots are made out of a combination of leather and nylon that will take a good amount of abuse.
They are easy to put on and very comfortable. The Vibram sole makes them a good choice if you plan to do a moderate amount of hiking as well.
The only real downside with these is the price. If you are willing to pay it, I think you will be happy with your purchase.
Key Features:
Snake Protection
Vibram Sole
Weight: 5 lbs. 8 oz. Per Pair
Best Snake Boots: LaCrosse 4xAlpha 16″
For those of you who are hunting in snake country, strongly consider the LaCrosse 4xAlpha 16″ boots.
When it comes to snakes, there is no sense in taking any chances. You want to make sure whatever footwear you use provides protection from getting bit.
These LaCrosse boots are made from rubber, making them completely waterproof. The mold of the rubber fits the foot and lower leg very well which is probably why they are so comfortable.
Another major benefit of them being made out of rubber is that they do not leave scent behind.
The boots also have a 4 layer insole for added comfort which also has the benefit of insulating the bottom of your foot from the cold ground.
You can wear them when it is cold with some good wool socks or get the version that is neoprene insulated.
The foot, shin, and heel all have extra thick rubber to make the boots even more durable.
These boots were our top pick in our article on the best snake boots for turkey hunting. Checkout that article for more info on snake boots.
Key Features:
Waterproof
Durable
Comfort
Weight: 5.1 lbs. Per Pair
Best Hiking Boots: Lowa Tibet GTX
If you plan on putting in some miles on your turkey hunts, consider a good pair of mountain hunting boots like the Lowa Tibet GTX.
These boots are very popular with big game hunters as well as hikers and are in fact what I wear during the fall.
I have been using these for a few years now and my experience with them has been great. They have held up well, do not leak, and my feet are not that sore even after long hikes.
There are many great features on these boots. You start with the Nubuck leather, Gore-Tex lining, and the high quality lacing eyelets will have you impressed.
The Vibram soles do a good job minimizing the vibration of rough terrain as you walk. In relatively little time, you will noticed the difference.
They are not insulated but with a good pair of wool socks your feet will still be plenty warm in all but the coldest conditions.
If you aren't doing a ton of hiking on your turkey hunts then consider the other options but for hiking these are hard to beat.
Key Features:
Nubuck Leather
Gore-Tex Lining
Vibram Soles
Weight: 4 lbs. Per Pair
Best Budget Turkey Hunting Boots: LaCrosse Grange
If you are on a tight budget and are just looking for a pair of waterproof boots that will keep you dry, checkout the LaCrosse Grange.
LaCrosse has been making these since 1957 so you know they have stood the test of time.
These are uninsulated rubber boots that are
The soles provide a good amount of traction ad the top of the boot is adjustable so you can tighten it around your upper calf.
These boots have been a popular choice among turkey hunters for years.
While there are now better options on the market, for this price range these still take the cake.
Key Features:
Waterproof
100% Rubber
Ankle Fit
Weight: 4.5 lbs. Per Pair
Who Should Buy a Turkey Hunting Boots
If you have spent some time chasing turkeys around during hunting season, you know the value of a good pair of boots. The terrain and styles encountered when hunting turkeys can vary so you should take your situation into account when selecting the right pair for you. The best mountain hunting boots aren't necessarily going to be best for turkey hunting. Essentially, you want to ta can tailor your boot choice to match your style of hunting.
For those of you who are going to be hunting it wet conditions, it is critical that you select a pair of waterproof boots. Having wet feet is one of the fastest ways to ruin a good hunt and kill your chances at eating some wild turkey you harvested.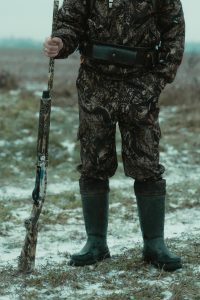 Arguably one of the most important factors to consider is whether or not there are snakes where you plan to hunt turkeys. If there are, you absolutely want a pair of boots that will protect you in case you get bit.
Having your feet get wet sucks, but getting bit by a snake can be deadly.
One other factor worth considering is how much you plan on hiking when hunting turkey. If you don't need to travel too far from your truck, or you are using some type of hunting vehicle, then it may not be of concern.
But if you plan on putting in some miles, it is worth purchasing a pair of boots more suited towards hiking/mountain hunting. These boots provide better foot and ankle stability.
Important Features to Consider
Water Resistance. One of the main reasons you are probably considering buying boots for turkey hunting is to keep your feet dry. All of the options above offer some level of water resistance. If you want truly waterproof, your best bet is always a molded rubber/polyurethane boot like the LaCrosse above.
Snake Protection. If there are snakes where you hunt turkeys, you should pick a pair of boots that are going to provide protection in the even that you get bit. While all boots will help to some degree, there are boots specifically designed to protect you.
Durability. Hunting conditions are rarely so nice that they don't require durable gear. Mud, rocks, trees, etc. can all take there toll on a pair of boots causing wear and tear. Most of the boots above can be considered to be very durable. If you plan on rough terrain, it is probably best to avoid the LaCrosse Grange.
Quality. Many manufacturers have outsourced their production to different locations in order to cut costs. It is important to keep an eye out for a design that has had recent quality issues as this might be a sign of a products quality degrading. All of the recommendations above are made by well known, reputable brands that have a history of making quality products.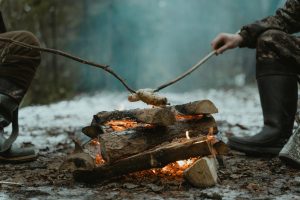 Frequently Asked Questions about Turkey Hunting Boots
How easy are these to take off?
One of the downfalls of the rubber/molded boots is that they can be a bit more difficult to get off. One of the features on the LaCrosse AeroHead that attempts to solve this is the molded in heel plate. It seems to help quite a bit.
Why Should You Trust Me
Well, because I actually hunt and use the gear I write about.
Over the years I have used a number of different boots while turkey hunting.
I know how critical a great pair of boots are.
I am not affiliated with any of the companies recommended in this article and did not receive any endorsements.
My reviews are based off my own experience and opinions.
If you purchase turkey hunting boots based on my reviews and use one of my links, I receive a small commission (usually a couple %). You do not get charged any extra. This money goes towards keeping the site running, buying more gear, and rewards me a little for the time it takes to put these articles together.
Conclusion
Anyone turkey hunter is going to need a good pair of boots.
And I think the best turkey hunting boots are LaCrosse Aeroheads.
I hope you found this post helpful. The goal is to help you select a pair of boots you can rely on while out chasing turkeys.